3D Secure is a card industry authentication protocol for online payments, providing an extra layer of security for merchants selling online. Customers are sent through the card issuing bank's verification service when making a payment, before proceeding with the authorization request.
Ensure you follow the steps below to enable your Universal Checkout integration to leverage 3DS:
📞
Contact your Primer representative to configure 3DS on your Primer account.
🔨
Setup a workflow with 3DS on your Dashboard.
Modify your Podfile like so:
1

2

3

4

5

6

7

8

9

10
source 

'https://github.com/CocoaPods/Specs.git'

source 

'https://github.com/primer-io/primer-podspecs.git'

 

use_frameworks

!

 

target 

'PrimerSDK_Example'

 

do

  pod 

'PrimerSDK'

  pod 

'Primer3DS'

    

// ...

end
swift
copy
Then run pod install to install Primer3DS on your workspace!
The Swift Package Manager is a tool for automating the distribution of Swift code and is integrated into Xcode. In order to add PrimerSDK with Swift Package Manager;
1

Select your project, and then navigate to Package Dependencies

2

Click on the + button at the bottom-left of the Packages section

3

Paste https://github.com/primer-io/primer-sdk-3ds-ios into the Search Bar

4

Press Add Package

5

Let Xcode download the package and set everything up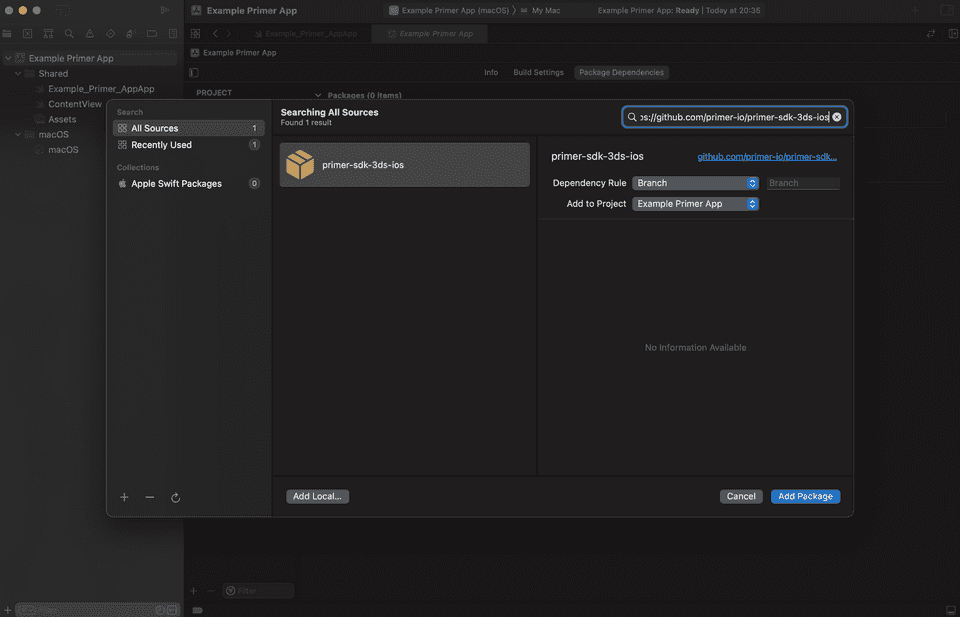 ⚠️
If Primer3DS is not installed, 3DS will fail. In the case of a 3DS triggered by the workflow, the primerDidFailWithError functions will be called.
❗
If you notice a console warning "Failed to import Primer3DS" on the SDK initialization, go to Scheme settings and select Manual order.