Cart abandonment isn't just a nuisance for businesses; it can significantly impact your conversion rate and, ultimately, your bottom line. 
In 2021, almost 70% of digital shopping carts were abandoned before purchase, demonstrating the disconnect between attracting and converting customers. In addition, Forrester's research suggests that online businesses lose up to $18 billion in sales revenue annually. 
Cart abandonment is a challenge businesses grapple with daily, and it's impossible to mitigate entirely. We cannot control customers who are digitally window shopping, comparing prices, or even wanting to purchase but have an unexpected financial commitment elsewhere. But we can try to understand the reasons behind cart abandonment so steps can be taken to minimize it.
In this article, we'll explore the most common reasons for cart abandonment and the strategies you can use to address them.
Eight reasons for cart abandonment and what you can do about it
Cart abandonment is when a potential customer initiates the buying process only to drop out without completing the purchase. Here are the eight most common reasons for abandoned carts and what you can do to address them. 
The preferred payment method is unavailable.
As more payment options become available, some customers may strongly prefer a particular payment method. The Federal Reserve found that 29% of customers preferred debit cards, 28% credit cards, 20% cash, and 11% direct payments. That leaves 12% for alternative payment methods.  
In contrast, 35% of online purchases are paid for via cash on delivery in Thailand. Just 25% are paid by card. This stark contrast shows the importance of offering payment methods that resonate with your target market, and for international businesses, this may not be the same across different markets.
If a customer's preferred payment method is not accessible, they may leave their cart behind. Research by PayPal found that 59% of consumers have abandoned their carts when their favorite payment method was unavailable.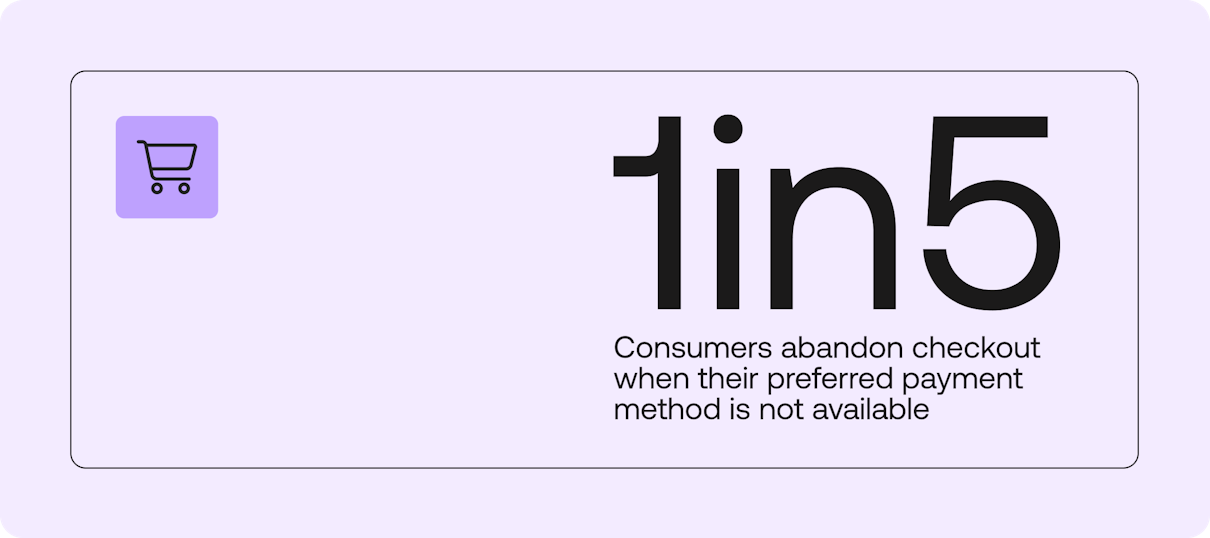 What you can do
You should consider adding multiple payment methods to your checkout to minimize cart abandonment because a consumer's preferred payment method is unavailable. But be mindful that offering too many options can also cause cart abandonment as consumers have too many choices. 
To ensure you choose the suitable options, you must get into the data and understand your customers and their buying habits. You cannot know which payment methods to offer to specific markets without this. 
Learn more about the evolution of alternative payment methods.
Unexpected shipping costs or limited options
How often have you abandoned a cart the moment you saw the shipping fee? It's not just you—customers tend to abandon purchases when additional charges are only revealed at the final stages of checkout. Our ecommerce study found that 46% of UK consumers get frustrated with expensive delivery costs at the checkout, leading to cart abandonment. 
Additionally, consumers not offered their preferred shipping option are abandoning their carts and seeking alternatives that give them what they want. In the era of same-day shipping, offering flexibility and convenient shipping options is essential. 
What you can do
To avoid cart abandonment due to unexpected shipping costs, consider being more transparent with the delivery costs from the beginning of a shopper's journey. Free shipping and coupon systems could also be considered to incentivize customers to purchase. 
To mitigate the limited shipping option problem, consider offering a selection of delivery types. These could include:
Multiple courier choices

Weekend delivery

In-store pickups

Time slots for delivery

Next-day delivery
False declines
A false decline occurs when a legitimate customer payment is incorrectly declined due to suspected fraud or a failure in the payment value chain. It's a big issue hiding in plain sight, with 42% of consumers saying they'll abandon their cart after being declined.
Not only are false declines bad news for cart abandonment, but they will also impact customer loyalty and lifetime value and potentially damage your reputation.
What you can do
To ensure false declines aren't a leading cause of cart abandonment in your business, you can:
Implement automatic and delayed retries

Utilize 3DS

Customize risk rules

Send the correct data with the payment

Route to the right processor at the right time
Learn more about false declines and improving authorization rates.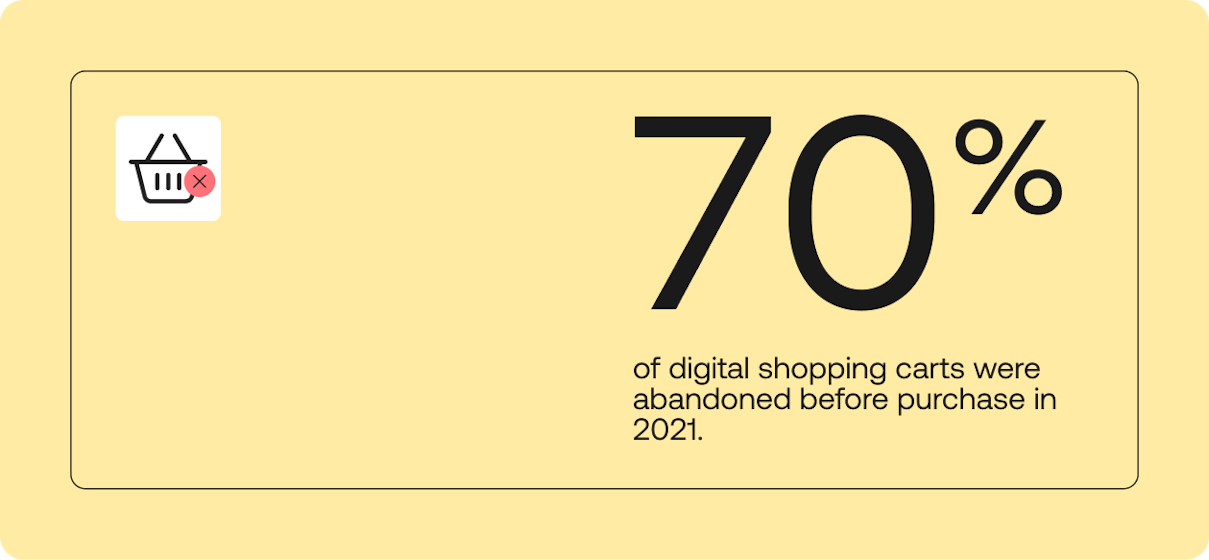 Inconsistent checkout experience
Your customers should have a checkout experience consistent with your website's look and feel. By redirecting them to another page that looks different from your website, customers lose the overall brand experience. As a result, they might abandon their cart because the checkout page looks illegitimate and inconsistent.
Likewise, a consumer might start a purchase on their laptop but leave and return to complete it on a mobile device. If the checkout experience is inconsistent, looks different, or feels clunky, it's likely to result in cart abandonment. Mobile cart abandonment is the highest of all devices at 85%.
What you can do
You should ensure your checkout pages are designed to look and feel like the rest of your website. That includes everything from brand colors and fonts to the tone of voice used on the page. You could also ensure the checkout is compatible with different browsers and devices. 
The experience for consumers should be the same on desktop and mobile but optimized for each device. You may want different payment methods on different devices, for example, Google/Apple Pay on mobile and cards on desktop. 
Learn how Primer's Universal Checkout allows you to build checkout experiences you're customers will love.
Having to create a new user account
Requiring customers to sign up for an account can often create buyer friction, deterring them from completing their purchase. Our recent study found that around 27% of customers abandon their carts for this reason. 
What you can do
To reduce cart abandonment, consider offering a guest checkout option. This allows customers to buy without an account and reduces the steps required to complete a purchase.
Payment security concerns
Customers are more vigilant when protecting their personal and financial information online. Suboptimal payment security and data privacy practices cause around 17% of customers to abandon their carts. 
What you can do
To reduce cart abandonment due to security concerns, you should ensure your website is:
You should also offer customers a familiar and trusted payment option. This should be something they feel comfortable using and are familiar with. 
Long and confusing checkout
A long and confusing checkout frustrates customers and accounts for 15% of all abandoned carts. Whether your site experiences issues like slow load speed or your multi-page checkout presents a challenge, it's likely to impact your cart abandonment rate. 
What you can do
To address this, streamline the time and effort required to complete a purchase, leaving shoppers with fewer opportunities to abandon their digital cart. Consider reducing the number of web pages needed to complete a transaction by implementing a single-page checkout that reduces buyer friction.
By reducing the number of assets to load, servers require fewer resources to maintain and support software. This simple act reduces page loading time and improves the overall user experience.
Lack of customer support
Lacking an option for customer support also increases cart abandonment. Some customers abandon their carts if they can't find the help they need, so creating informational articles on your website is essential when support is unavailable.
What you can do
Offering live chat support effectively reduces cart abandonment, allowing customers to get instant answers to their questions without leaving the checkout page.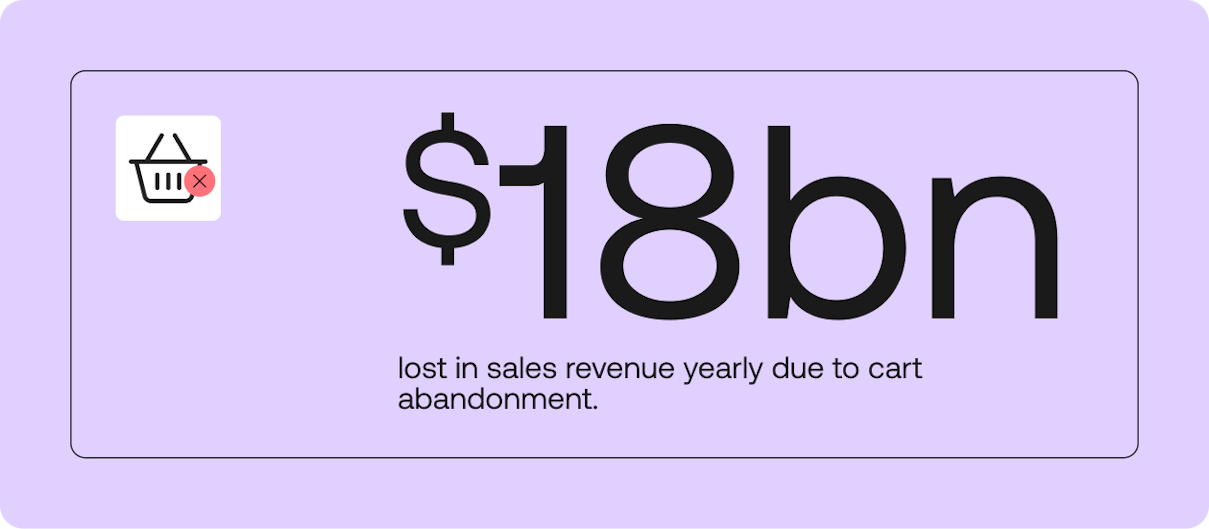 While cart abandonment will always be a problem, you can minimize your cart abandonment rate with a few simple and proactive changes.
Analyze user behavior for conversion funnel leaks
Learning where your customers are abandoning their carts is essential for preventing cart abandonment. Existing tools like Google's Advanced E-commerce Analytics can help you create comprehensive conversion funnels to map where shoppers drop off in the conversion funnel.
Funnel Visualization Reports can outline your customer journey, enabling you to see what pages are visited and what proportion of shoppers remain in each funnel stage. High attrition on the payment page could indicate unclear CTAs, too few payment options, or poor site functionality. 
We take a deeper dive into payment analytics in this article.
Optimize payments processing
With lengthy and complicated checkout processes being a significant reason for cart abandonment, payment optimization is essential for reducing your cart abandonment rate. By improving your payments strategy and technology stack, you can enhance authorization rates, minimize fraud and ultimately, provide a seamless customer experience that doesn't involve cart abandonment. 
It's essential to evaluate your customer data to find out what is causing cart abandonment in your business. From here, you can choose the improvements that would be more appropriate for targeting those issues. This could be anything from rearranging payment methods at checkout to integrating new processors or using machine learning in your fraud tools. 
Learn more about payment optimization.
Choose the features you need
It's easy to get carried away and add all the features you think will benefit your users. But in doing so, you might overcomplicate the shopping process, confuse the customer, and contribute to cart abandonment. 
To avoid this, you should carefully consider the consumer buying journey. Ask yourself whether each buyer step adds value to your customer's shopping experience. For instance, a feature that allows customers to compare products might be helpful in an electronics store but not so much for customized posters. 
Choose only the features you need and keep your online store simple and user-friendly to reduce the chances of cart abandonment. 
Collect customer feedback about pain points
Customer feedback is always valuable for identifying underlying issues that might lead to cart abandonment. We've already mentioned how tools like Google's Advanced E-commerce Analytics can help businesses visualize common customer dropoff points - but quantitative data can only go so far. 
Qualitative data collection from post-purchase surveys can:
Outline a user's feelings about the checkout process

Explore UX/UI upgrades

Recommend future products

Highlight any problems during the checkout process
The insights gained during these surveys can help businesses identify areas for improvement. If you notice high attrition levels after a specific step, these surveys will provide further insight into why. 
Offer relevant payment methods
Multiple payment methods ensure a potential customer's preferred payment method is available. That said, offering a wall of options is as bad as providing none. Consumers will find it challenging to know which option is the best. Merchants need to understand their customers and tweak their checkout offerings accordingly.
Partnering with a powerful payment platform like Primer allows you to integrate the correct payment methods into your online store, providing a seamless checkout experience without overwhelming your customers. 
Conduct A/B testing
A/B testing is a powerful tool for optimizing your website and reducing your cart abandonment rate. 
It works by creating two web page versions based on what you want to test. The next step is to split your web traffic amongst the versions and monitor the performance of each version to see which one falls in line with your goals. 
When running A/B tests, altering only one variable at a time is essential. This way, you can accurately determine the changes that lead to increased or decreased outcomes and optimize the customer journey. 
The bottom line
There is plenty to consider when evaluating the reasons for cart abandonment in your business. However, finding the core issues specific to your company and implementing effective strategies that address them can significantly increase conversion, boost sales and improve your bottom line. 
Offering multiple payment methods, simplifying the checkout process, and making customer-first decisions are just a few ways a business can address cart abandonment. 
Read on for the latest data on cart abandonment from our recent e-commerce study spanning 2,000 consumers and 500 retail businesses.
FAQs
How does cart abandonment change between desktop and mobile?
Cart abandonment rates can vary significantly between desktop and mobile devices. Cart abandonment rates are generally higher on mobile devices due to UX/UI issues and functionality. Mobile devices present new challenges for web designers, and web visitors often experience slower loading times and sizing issues when a site isn't optimized for mobile. 
How do you deal with abandoned carts?
Dealing with abandoned carts involves time-intensive strategies, including streamlining checkout, cost transparency, offering multiple payment methods, and mobile responsiveness. 
Businesses can also implement re-engagement strategies such as cart abandonment emails and retargeting ads to ensure customers return to the site and complete their purchases. 
Should customers experience technical issues while going through the checkout process, offering real-time customer support could also reduce the likelihood of cart abandonment.