Securely store payment method information
Primer's Vault is a centralized PCI-DSS Level 1 service you can use to store the details of a customer payment method once it has been authorized.
Sensitive payment data is stored as a secure multi-use paymentMethodToken that enables recurring merchant-initiated payments and can be used with Universal Checkout to provide a seamless one-click experience for your customers.
Use the Payment Methods API to store payment data manually or store automatically as soon as a payment is successfully authorized. Each paymentMethodToken is paired with a customerId you specify when:
generating a clientToken to allow Universal Checkout to present your customer's valuted payment data for one-click checkout
creating a payment request using vaultOnSuccess to save the customer's payment data once it has been successfully authorized
managing stored payment data with the Payment Methods API to allow customers to add and delete vaulted payment method data from your site or app
🔐
You can also use the Payment Methods API to obtain a stored paymentMethodToken from the Vault for merchant-initiated payments.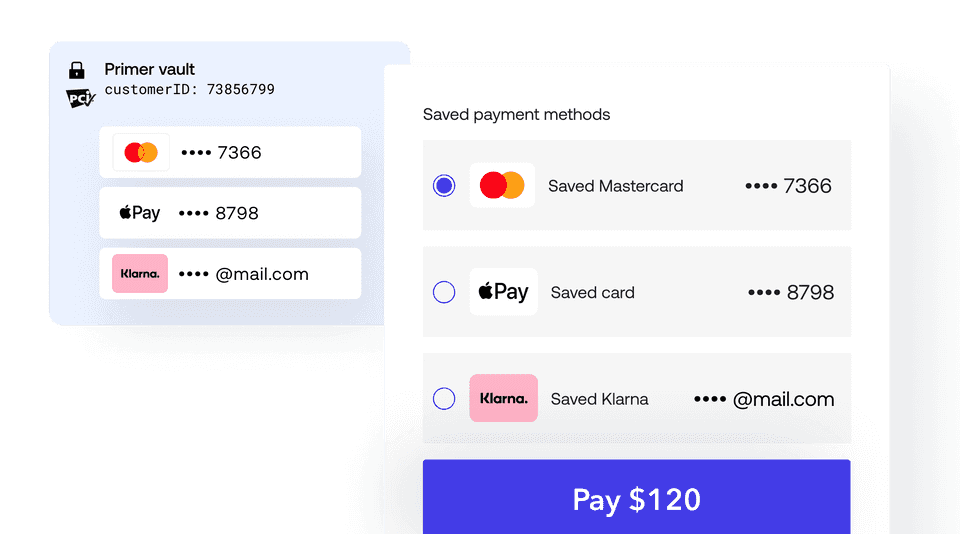 Intelligently optimized for auth rate approval
We're fanatical about improving payments success. Primer will intelligently store data returned from your underlying processors to ensure the highest likelihood of success for recurring payments. This includes SCA authentication data as well as other data returned from card schemes and acquirers.
Easily manage stored data
Empower your customers to manage their own payment method data on your site or in your app, or simply get programmatic access wherever you need to list, edit and update stored payment method details with the Payment Methods API.
Find out more in the Payment Methods API section of our API Reference.