This case study was written in collaboration with our Connection partner, Coinbase Commerce, and was originally published on the Coinbase Institutional Research & Insights Hub.
Highlights
Compass Mining provides a turnkey platform to buy, operate and host mining hardware, without the associated requirements of on-site logistics and facilities.

As a crypto-first company, Compass Mining was searching for a payment provider that similarly shared in its mission of increasing participation in the crypto-economy.

Compass Mining partnered with Coinbase Commerce and Primer to offer a simplified crypto-payment experience for their users, while delivering a seamless interface and toolkit to manage reporting and custody.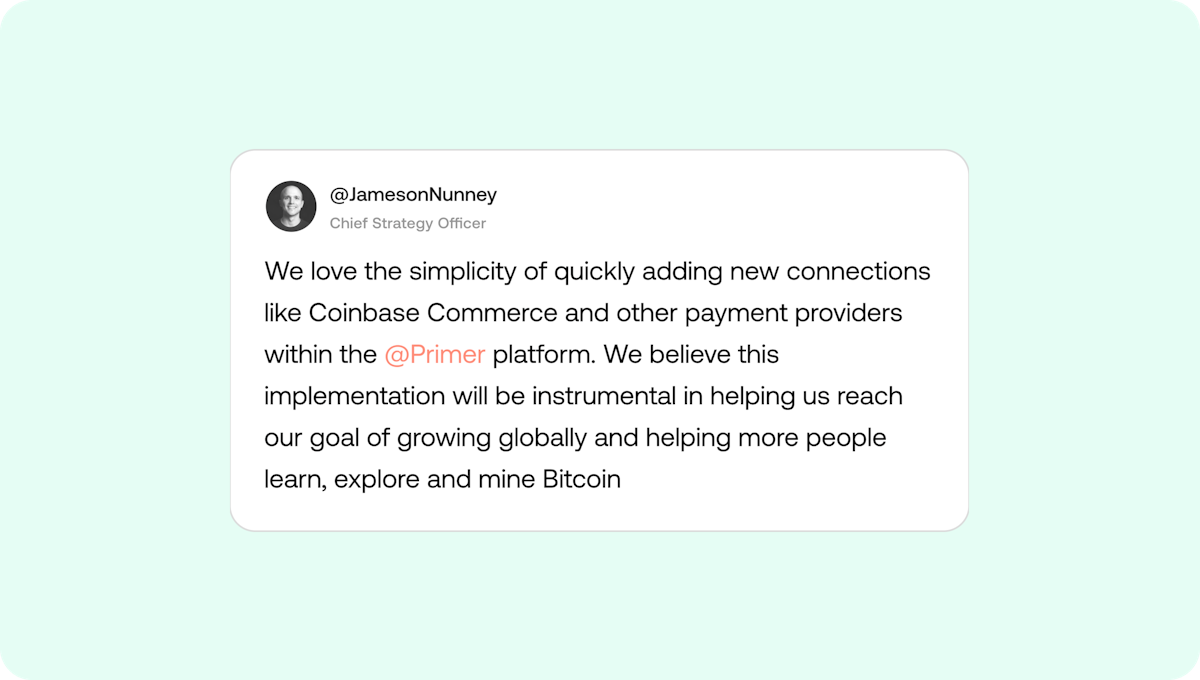 The challenge
With consumers looking for more ways to pay using crypto in general, Compass Mining wanted to provide that option to their customers. Just as Compass Mining sought to simplify the process of participating in crypto mining, so too did they seek to simplify their customers' purchasing journey at checkout. From sophisticated enterprise clients to first-time retail users setting up their first mining rig, it was important for Compass Mining to provide a crypto-payment solution that could serve their wide customer base.
The decision to accept crypto for payments raised significant questions around what it would mean for their security, compliance and reporting functions. Compass Mining required a provider that could address these issues and easily integrate with their systems to support their full scale of payments.
The solution
Compass Mining focused on three major requirements in their choice of solution: fast settlement, a crypto-forward user experience and easy integration with their workflow.
Speed of settlement
Compass Mining wanted to provide a flexible offering to its global customer base, going beyond accepting BTC and ETH for crypto-payment options. However, it would be difficult to manage exposure across multiple cryptocurrencies in receivables, given the constant fluctuation in prices. 
Coinbase was able to set up a 24/7 automatic feature that would immediately convert crypto payments into fiat currency on Coinbase Exchange at the time of receipt. Customers of Compass Mining could now pay using a range of crypto assets with Coinbase Commerce auto-liquidating the incoming payments to cash for Compass Mining's operations. In addition to near-instant settlement with the auto-conversion feature, Compass Mining also gained access to a KYC-verified customer base of nearly 100 million Coinbase retail account holders by enabling Pay with Coinbase. With the Pay with Coinbase feature, funds are settled immediately and off chain. Without any assembly required, Compass Mining now has the payment rails to an ecosystem of customers ready to pay directly.
User experience
A smooth customer experience in making crypto-payments was central to Compass Mining's  requirements for a partner. Their fiat payment acceptance via conventional rails, such as ACH and credit cards, were already familiar and integrated across customers' online ecosystem. Therefore, Compass Mining found it crucial to be able to build and own a crypto-native experience that reflected their principles of simplicity and ease. 
After a period of research, Compass Mining decided to implement Coinbase Commerce through Primer. This gave Compass Mining the ability to connect and manage their existing fiat payments via Primer's unified payment infrastructure, and easily add Coinbase Commerce as a new payment method to Primer's Universal Checkout, with zero code needed.
When customers pay with crypto using the Coinbase Commerce and Primer integration, they're briefly redirected to a crypto-only checkout experience that supports crypto-payments from all crypto wallets and exchanges, including the Coinbase app and Coinbase Wallet.
Once Compass Mining had integrated Primer into their eCommerce platform, they could then add Coinbase Commerce to their checkout page in just a few clicks. Through Primer's payment automation platform, Compass Mining were then able to easily create their own payment Workflows, allowing them to provide the best checkout experience to all their customers worldwide.
On the backend, Compass Mining enjoyed a simple setup with APIs and direct integration with existing eCommerce platforms. In addition to the standard customer checkout workflows provided, Compass Mining can create their own workflows and experiences with turnkey APIs, allowing them to customize each stage of the checkout journey. 
Workflow integration
With Compass Mining being a crypto-native company, they sought to partner with a crypto payment processor that could streamline their day-to-day management workflows. Crucial to this was the ability to stay on top of their accounting and invoicing requirements. With Coinbase Commerce, Compass Mining were able to track reporting of their sales and customers, alongside custom invoicing for customers checking out. Billing functionalities within the Coinbase Commerce dashboard also simplified transaction workflow in their eCommerce platforms. With the Commerce platform housing all information related to payments, fees and conversion status, the Compass Mining team was able to develop business reports with transaction reporting tools for accounting and reconciliation. These capabilities meant more efficient processes and simplified management of tax and compliance requirements.
The outcome
The partnership with Coinbase Commerce and Primer was successful in building an experience that reflected Compass Mining as a company. Compass Mining can now accept fiat payments alongside crypto to give customers a choice in the payment methods they want to use. 
Since the integration, Compass Mining were able to benefit from:
Lower decline rates and chargeback risks compared to traditional payment methods 

Auto-conversion of crypto to fiat, with same-day deposit into Compass Mining's Coinbase account

96.4% successful settlement rate in the last 3 months*

6.6% compounded monthly growth rate in the number of transactions since inception of the Coinbase Commerce platform**
---
Want to leverage payments for growth like Compass Mining?
Get in touch with us
.
*For period July-September 2022
**As of September 2022