The global ferry industry is thriving, with over four billion passengers using ferries annually for work and leisure. However, the sector has yet to see much innovation. Booking ferries still involves cumbersome processes, unlike the streamlined services offered for flights or hotels. Or at least that was the case until Ferryhopper arrived on the scene.
Founded in 2017, Ferryhopper is an online travel agency (OTA) transforming ferry travel. Starting in Greece, it has rapidly expanded, allowing travelers to compare and book single, return, or multi-destination tickets with access to over 100 ferry operators and 500 destinations. 
But it's just the beginning. Ferryhopper raised a $5 million funding round in 2022, setting its sights on further expansion and becoming the global ferry expert. 
The company set in motion several projects to take its business global, including reimagining its payments stack. By teaming up with Primer and adopting its Unified Payments Infrastructure, Ferryhopper is scaling payments in sync with its business, all while optimizing the user experience and unlocking superior performance.
Setting sail on its payment journey
"We've always recognized the importance of payments in our business," shares Panagiotis Sarafis, CPO and Co-founder at Ferryhopper. "When setting up in 2017, we debated what our payments strategy should be."
The question at the time revolved around whether Ferryhopper should host its payment page or direct customers to a checkout form on our bank's website. "Ultimately, the latter option prevailed," says Sarafis. "It's a common practice in Greece and doesn't kill conversion as it might in other markets. Plus, it was the simpler choice, which made sense for our new business."
However, as Ferryhopper matured, the limitations of its payment setup became increasingly apparent. The team had little visibility into what its customers were doing at the checkout and little ability to optimize for cost and performance. They also recognized the need to explore new payment flows, payment service providers (PSPs), and payment methods as they expanded into markets beyond Greece.
Onboarding Primer to mature its payments stack
Maturing its payments stack was easier said than done. Ferryhopper successfully migrated from its redirect to an embedded payment form. "The solution worked great for several years," says Sarafis. "However, as we looked to scale our payment infrastructure, it became a challenge for our lean team to build and maintain connections with different acquirers and payment methods.
"The deeper that we went in payments, the more we found ourselves turning into a payments company rather than focusing on creating the world's best destination to book ferry travel," Sarafis jokes.
Sarafis and the team decided to reevaluate their approach. It had to choose between expanding the team to build and maintain these connections or using a third party that had already built the integrations with the providers Ferryhopper wished to use.
"The latter was the clear path forward," says Sarafis. "And Primer was the ideal partner. It stood out as the most modern, flexible, and innovative solution on the market. It was constantly delivering new features and connections. The team also showed up for us from day one, establishing themselves as our trusted payment experts willing to go the extra mile for our business."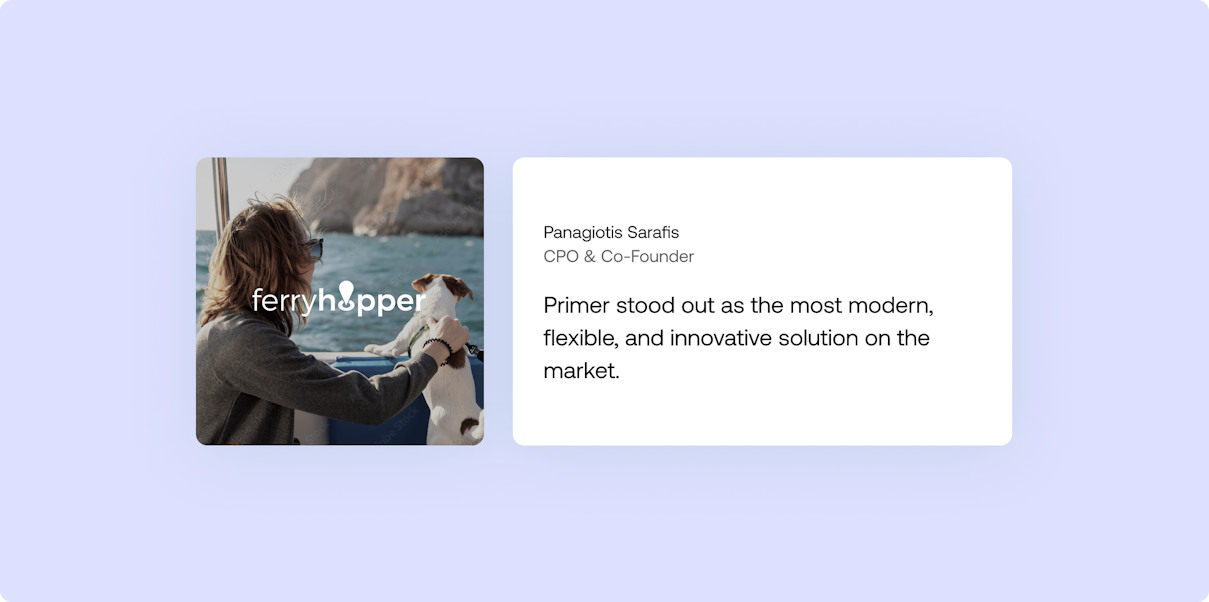 Charting a new course for payments
Ferryhopper relies on Primer to seamlessly manage payments across 12 countries, orchestrating its volumes across five PSPs. It's also turned on several new payment methods, including Apple Pay, Google Pay, and PayPal. 
"Primer has delivered on all fronts," says Sarafis. It has effectively eliminated most, if not all, of the complexities that stood in the way of our business goals. We're also experiencing robust performance across all our key performance indicators (KPIs). And now that Primer has completed its integration with Everypay Greek, our primary PSP, we'll send 100% of our volume through Primer."
It's a proposition that excites Konstantinos Kontos, Product Owner-Payments at Ferryhopper. "Primer has allowed us to consolidate our payments stack, removing operational challenges and ensuring we can scale at pace," he says. "But we're just scratching the surface. Choosing a Unified Payment Infrastructure like Primer over a pure-play payments orchestrator unlocks endless possibilities around what you can do with payments and in adjacent areas across the business."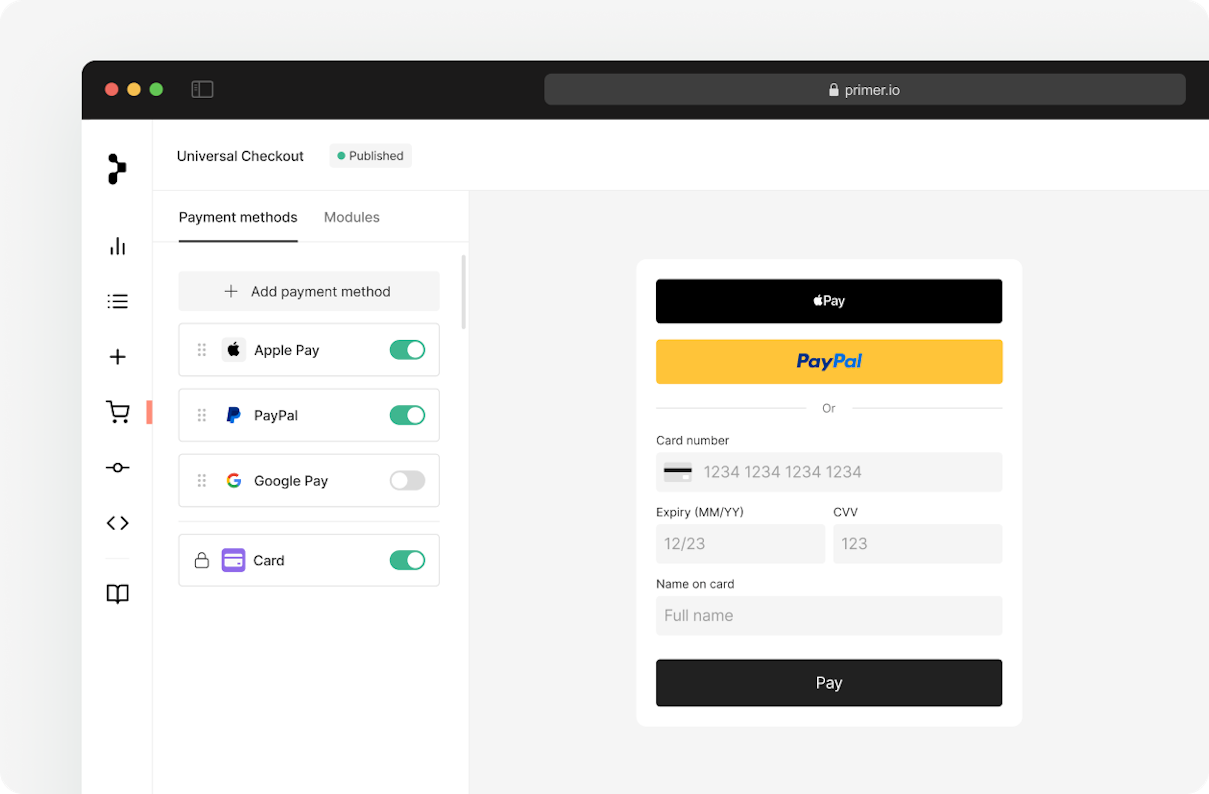 Optimizing its payments engine 
Ferryhopper is already using many of the frameworks and tooling provided by Primer to shape and optimize its payment processing. This includes: 
Minimizing customer friction with Dynamic 3DS 
Like most European businesses, the introduction of Strong Customer Authentication (SCA) impacted Ferryhopper. With limited resources to tackle the regulation, it applied a blanket approach, mandating a 3DS challenge for every transaction. 
"We were aware that this one-size-fits-all approach wasn't ideal and hurt our conversion rates," Kontos explains. "Adaptive 3DS feature has allowed us to address this issue." 
This solution ensures that a 3DS challenge is only prompted for transactions falling under the scope of SCA. Ferryhopper's conversion rate increased by 2% on these transactions due to using Adaptive 3DS. 
"Additionally," Kontos points out, "Primer has extended this feature to request a 3DS challenge for specific transactions made through GooglePay, even when they don't inherently meet the SCA requirements. This has effectively prevented 20% of our customers who used Google Pay from having their payment declined."
Optimizing for cost and performance with Workflows
Ferryhopper is on a quest to discover the perfect formula that enables it to achieve a high authorization rate while simultaneously reducing the cost of payment processing. And, with Primer, it's getting closer to solving this equation.
Using Workflows, Ferryhopper has implemented intelligent conditioning logic to direct payments to the most suitable providers, considering various factors, such as the card's place of issuance. 
"Crafting these workflows and implementing conditioning logic has proven to be remarkably straightforward, especially with the outstanding training we received from the team," says Kontos.
The ability to easily build workflows has also allowed Ferryhopper to experiment at pace to discover fresh approaches to enhance payment performance, provide a superior experience, cut costs, and generate greater value for our stakeholders. 
For instance, Kontos explains how it recently applied automated fallbacks, which saw Ferryhopper recover 1% of its bookings. "This is revenue that we'd otherwise have lost," says Kontos
Understanding customer payment preferences with Observability 
Ferryhopper is constantly exploring new ways to deliver for its customers, including ensuring it always offers the right payment method to the right customer at the right time. 
"With Primer Observability Pro, we have more data than ever to better understand our customers and payment flows," says Kontos. "It allows us to delve into the minutiae, using metadata and crafting customized charts to decode our customers' behavior."
Beyond payment methods, Kontos also uses the export feature in Observability Pro to track key KPIs around authorization, 3DS, and fraud. "Having a unified view across all our processors is immensely powerful, enabling us to make apples-to-apples comparisons across processors and identify optimization opportunities."
The team also utilizes the data export feature to enrich Ferryhopper's internal data lake. "This further empowers our team to gain a comprehensive 360-degree view of our business and make well-informed, data-driven decisions."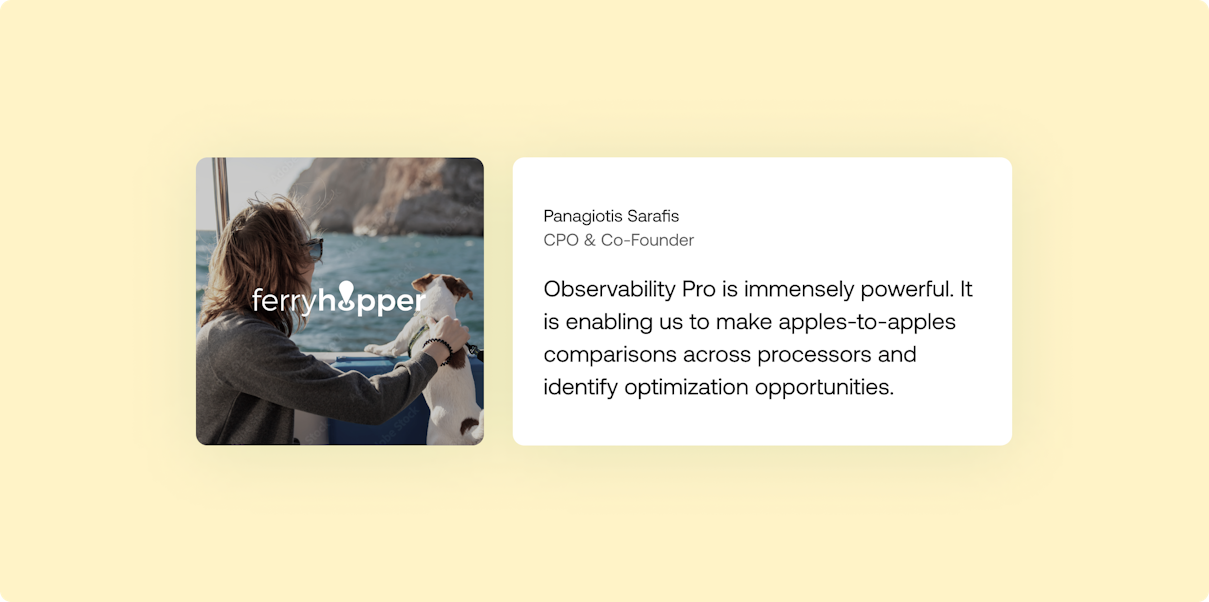 The journey is just beginning
In a world where ferry travel is the connective thread for countless people and places, Ferryhopper's commitment to making the experience more accessible and enjoyable is worth watching. 
"Our collaboration with Primer signifies a significant stride in its quest to become the global ferry expert," says Sarafis. "Using Primer to streamline our operations, enhance our customer experiences, and optimize performance has turned payments into a strategic growth level for our business."
Get in touch to learn how Primer can help make payments a strategic growth level in your business.