With the rapid growth of ecommerce, business is booming. But merchants are still facing an uphill battle. UK retailers believe over a third of all shopping carts are abandoned before payment is completed by a customer, resulting in lost revenue. 
Implementing multiple payment methods can be a game-changer for your business, significantly increasing conversion rates and improving customer experience. Let's explore the benefits of offering multiple payment options and how to set them up quickly and efficiently.
4 reasons you should offer multiple payment methods
Offering a variety of payment methods has several advantages. Understanding these benefits can help you decide which options to provide to your customers.
1. Maximize conversions by targeting cart abandonment
Did you know, a staggering 69% of Brits admit that they would abandon their online shopping basket? They would not proceed to payment if their preferred payment method was not offered by that retailer. Maximizing the opportunity to convert here is essential.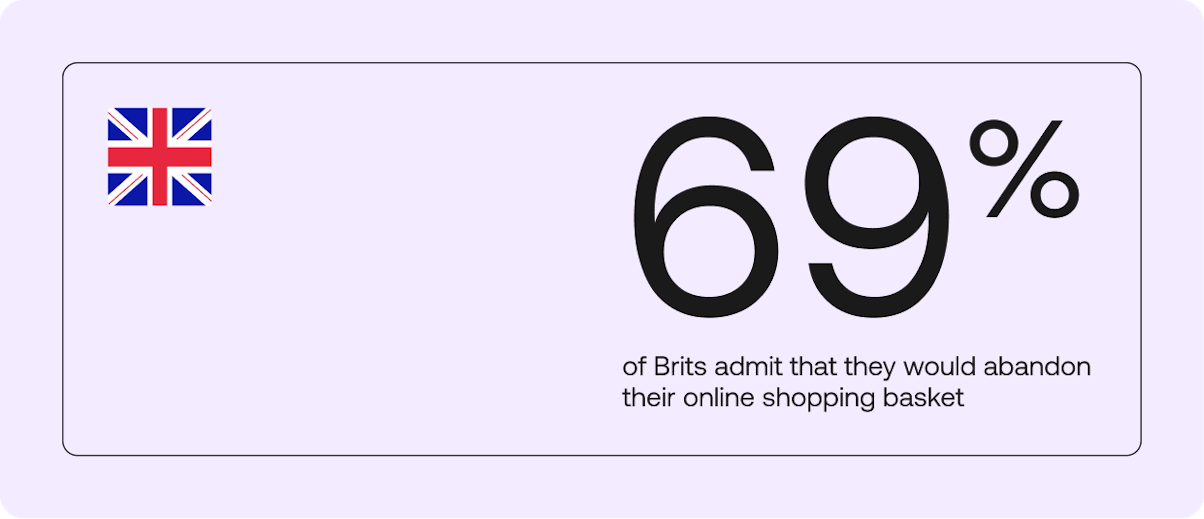 Offering a variety of payment methods allows customers to select the one that best suits their needs, increasing the likelihood that they will finalize their purchase. This is particularly important for businesses with a diverse international customer base, as certain payment methods might be unavailable in some regions. For instance, in the Netherlands, 60% of all ecommerce transactions in 2019 were paid using iDeal - a non-card payment method.
In addition, 17% of consumers leave their online shopping carts due to a lack of trust in the site's ability to securely handle their credit card information. By providing alternative payment options that customers trust, you can alleviate concerns and boost conversions.
2. Super easy checkout experience 
Online shoppers want a quick and easy checkout experience. In our recent market survey, we found that one of the biggest pain points for consumers is needing to create an account before you can pay. Combine this with long and complicated form fills, these are sure ways for customers to look for the product elsewhere, causing a mismatch between consumer expectations and the checkout provided by merchants.
Bringing simplicity to your customer is key. Whether that's a pop-up on a social platform, reducing unnecessary form fields or even creating a 'guest checkout' option.
3. Enhanced brand perception  
A PayPal study revealed that providing various payment methods and digital wallet options resulted in 71% of consumers being more likely to make a purchase and 62% feeling more positive about the brand.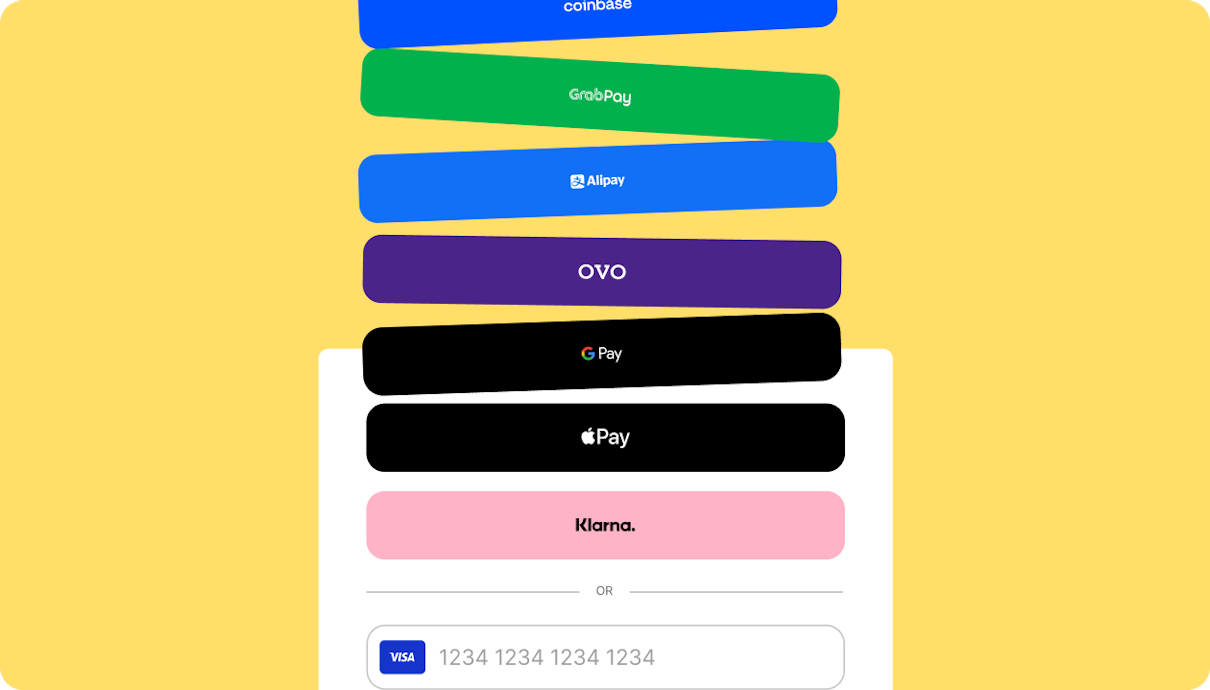 An older study by researchers at a leading business school found that improved brand perception can increase sales, especially if the brand is perceived as high-quality. An enhanced perception can reduce returns and add to the overall benefits of fostering a positive brand image.
4. Build competitive advantage
Many businesses are now using payment experience as a competitive advantage. By presenting payment options that will attract different demographics and markets, it brings choice and flexibility for your customers which, in turn, will encourage them to convert. Take, for example, a Buy-Now-Pay-Later (BNPL) option to capture the digital-savvy Gen Z shoppers. 
What are the different payment methods?
When it comes to selecting different payment methods for your business, it's crucial to consider your target market and geographical region. Different regions have different preferences, and catering to these needs can improve both customer satisfaction and conversion rates. 
To ensure you're offering the most appropriate options for your customers, research and understand the popular payment methods specific to their market. 
Gain a greater understanding of meeting your customer's payment preferences🧠
Credit and debit cards
Credit and debit cards are among the most widely used payment methods globally. By accepting major card providers like Visa, Mastercard, American Express, and Discover, you provide a convenient and secure way for a broad range of customers to make transactions.
Mobile wallets
Mobile wallets - or pass-through wallets - provide a modern, convenient, and safe alternative to carrying physical payment cards, allowing users to complete transactions from their digital devices with ease and efficiency. 
Google Pay
By integrating Google Pay into your available payment options, you provide a fast, secure, and simple way for customers to complete transactions using their Android phones.
Apple Pay
Offering Apple Pay as a payment method means you can reach millions of iPhone, iPad, and Apple Watch users. Apple Pay streamlines and enhances the payment process by making it easy for customers to complete transactions with just a tap.
Digital Wallets 
With ease-of-use and security combined, and ways to "top-up", digital wallets are one of the fastest growing payment methods, exploding in popularity within unbanked populations. 
PayPal
Paypal is Britain's most trusted payment method with 50% of Brits trusting them with their personal data, versus 47% for debit/credit cards and just 8% for Klarna. By including PayPal in your payment options, you appeal to customers who value security and convenience. With millions of users worldwide, integrating PayPal can help expand your customer base and foster trust in your brand.
Account-to-Account payments (A2A)
A2A payments enable customers to transfer funds directly from their bank account to another account. Underpinned by open banking, A2A payments can be utilized for various purposes, such as settling bills or conducting online transactions. Bypassing traditional card rails, they are a fraction of the cost of a typical payment option.
Buy now, pay later  
Buy now, pay later (BNPL) offers customers the flexibility to spread the cost of a purchase, often making it a more affordable alternative to taking out a loan. These solutions typically feature interest-free periods, deferred interest, and monthly installment plans.
Subscription payments
Subscription payments guarantee timely payments without requiring customers to be reminded. This approach encourages repeat purchase, creating stickiness with the customer and generating  more revenue. 
It's worth noting that subscriptions generally rely on storing one or more payment methods on file for repeat purchases. This means it's essential to invest in an infrastructure that allows you to tokenize and securely store payment methods for recurring transactions.
 Loyalty payments
Loyalty payments serve as incentives offered by companies to customers, encouraging them to purchase again. Usually, loyalty payments come in the form of discounts or special offers on future purchases and can help maintain customer satisfaction.
Learn more about how you can offer multiple payment methods here.
Barriers to adopting multiple payment methods
Like anything in business, there are always barriers to adoption. And offering multiple payment methods is no exception. While there are multiple benefits in doing so, there are a few things to watch out for 👀
Fees
Different payment methods will present different fees such as transaction or implementation costs. It's important to understand your transaction volume in different regions as well as conversion and authorisation rates so you can work with providers on return on investment. 
Build vs buy 
Introducing multiple payment options can increase the complexity of your payment stack. You may need additional engineering resources which can be expensive and increase your product roadmap. Businesses need to carefully consider the time and resources required to build and maintain payment connections. 
Expertise 
Many companies didn't set out to become payment companies. Managing a multitude of products and services often distracts engineers and pulls them into the complexity of the payment ecosystem. Before expanding your payment stack, we recommend that you evaluate your knowledge and expertise so you can focus on what's important. 
Localisation 
If your business operates globally, localisation becomes tricky at the checkout. It's not practical to offer every payment method to every customer as many won't be relevant to that person or market. Additionally, if you're purchasing an item in France but your checkout displays a different language, then this could cause cart abandonment. Through dynamic routing and a localisation strategy, you can decide what payment methods to present in which markets and when. 
How to implement multiple payment options
While there are barriers to implementing multiple payment options for businesses, there are also ways to overcome them. 
Negotiate
Businesses concerned about costs can consider negotiating with payment processors for lower fees or researching more affordable options. However, it's important to remember that the benefits of offering multiple payment options may outweigh the costs in the long run.
Prioritize ease of integration
Investing in a user-friendly payment stack can help overcome the complexity of implementing multiple payment options. Your choice should also be something that will grow with your business and enable you to access new markets without changing everything again. 
Choose wisely
Address security concerns by partnering with reputable payment processors that prioritize security, offer features like fraud protection, and implement additional security measures such as two-factor authentication or PCI compliance.
Payments as a competitive advantage
Offering multiple payment methods is crucial for any business wanting to thrive in today's highly competitive and ever-evolving e-commerce landscape. By providing customers with a variety of payment options, businesses can maximize their conversion rates, reduce cart abandonment, increase brand perception, and gain a competitive edge.
Businesses that offer multiple payment options for online shoppers stand to gain a significant advantage over their competitors, while attracting and retaining more customers and ultimately boosting their bottom line. 
Speak to Primer today and find out how we can support your payment options. 
FAQs
Do multiple payment options help conversion rate?
Offering multiple payment options can help increase your conversion rate by providing customers with more convenient and flexible payment choices. When customers have a payment method that they trust and are comfortable with, they are more likely to complete the purchase. 
What is the most common payment method?
The most common payment method varies by region and industry, but credit and debit cards are generally the most popular payment methods globally. For example, in the United States and the United Kingdom, wallets such as PayPal, Apple Pay and Google Pay are widely used. 
How many payment options should I offer?
The number of payment options you should offer depends on your business needs and customer payment preferences. Offering too few payment options can limit your customer base and result in lost sales while offering too many payment options can be overwhelming and confusing for customers. 
A good rule of thumb is to offer at least three payment options, including a card option, a mobile wallet, and an alternative payment method like Apple/Google Pay.