Handling disputes is widely considered one of the most challenging parts of payments. Customers like them as a measure of protection from online fraud, but payment processors and retailers often view disputes as a painful undertaking.
This is why we're happy to share a new disputes product from Primer that makes it all simpler. Now, merchants using Primer can get a unified view of their dispute data across all payment processors: single, standardized dispute events and data points, combined with great documentation anyone can understand.
Why you should care about disputes
When a customer isn't happy with the service they've been provided, or their payment method was used fraudulently, they can raise a dispute (also known as a chargeback*)—which allows them to recover their funds from you, the merchant.
While this seems fair, disputes aren't something a business should take lightly. High dispute rates indicate unhappy customers and ultimately harm your brand, bringing about revenue loss, additional processor fees, and fines from Visa and Mastercard.
Therefore, tracking and understanding dispute data is crucial. Accessing dispute data, however, can be really tricky for a couple of reasons:
First, every payment processor sends different dispute notifications, many of which other processors don't provide, so the dispute events don't match up. It can be difficult to navigate which notifications should be actioned and which ones can be ignored for the sake of consistency and standardization. 
For example, some processors will send duplicate events when a chargeback is won and a chargeback reversal is issued, but others don't. These are the same events—and your team shouldn't have to invest time remembering how different processors handle each case.  
Secondly, different processors may refer to the same information in a variety of ways. What one processor refers to as an order ID may be called a payment reference or merchant reference by another. Documentation is often poor in the payment industry, especially among legacy processors, so developers waste time trying to normalize information that chargeback teams and data analysts need.
A unified dispute lifecycle
Our disputes product originated with the idea that Primer could create a single version of dispute events across all payment processors.
To do this, we developed a unified dispute lifecycle. This lifecycle distills the various dispute events into one view, so you no longer need working knowledge of each payment processor's jargon or idiosyncrasies.
All you need to know is Primer's lifecycle. This simple view cuts out the noise and complexity that merchants have had to struggle with for years.
What's more, each notification Primer sends also provides a uniform set of fields allowing any member of the team to understand the data. Again, Primer covers all the complex mapping from various processors, leaving your team free to make use of the data right out of the box.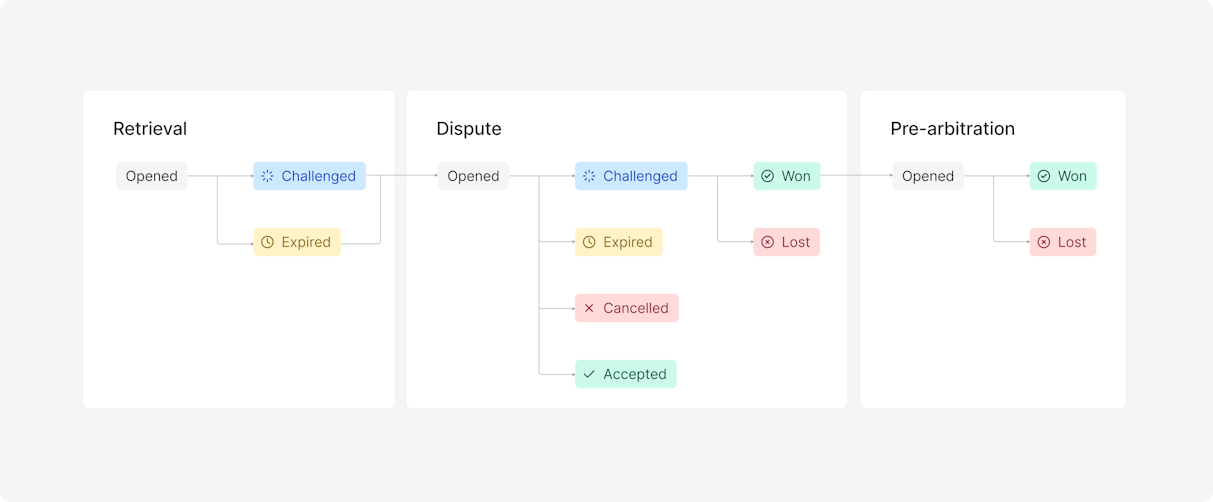 How can merchants access dispute data with Primer?
Merchants can easily access their unified dispute data in two ways:
Use the disputes app in Primer Workflows
Primer Workflows connect apps together in a simple UI, without using a single line of code. 
By creating a disputes app that's available to any merchant using our automation engine, we've unlocked a whole new set of use cases, including:
Sending dispute events to fraud tools like Riskified, who often require this information to improve risk models or reimburse chargebacks.

Automatically refunding payments when a card issuer launches a retrieval investigation, avoiding chargeback fees.

Preventing orders from being dispatched if a dispute has been raised.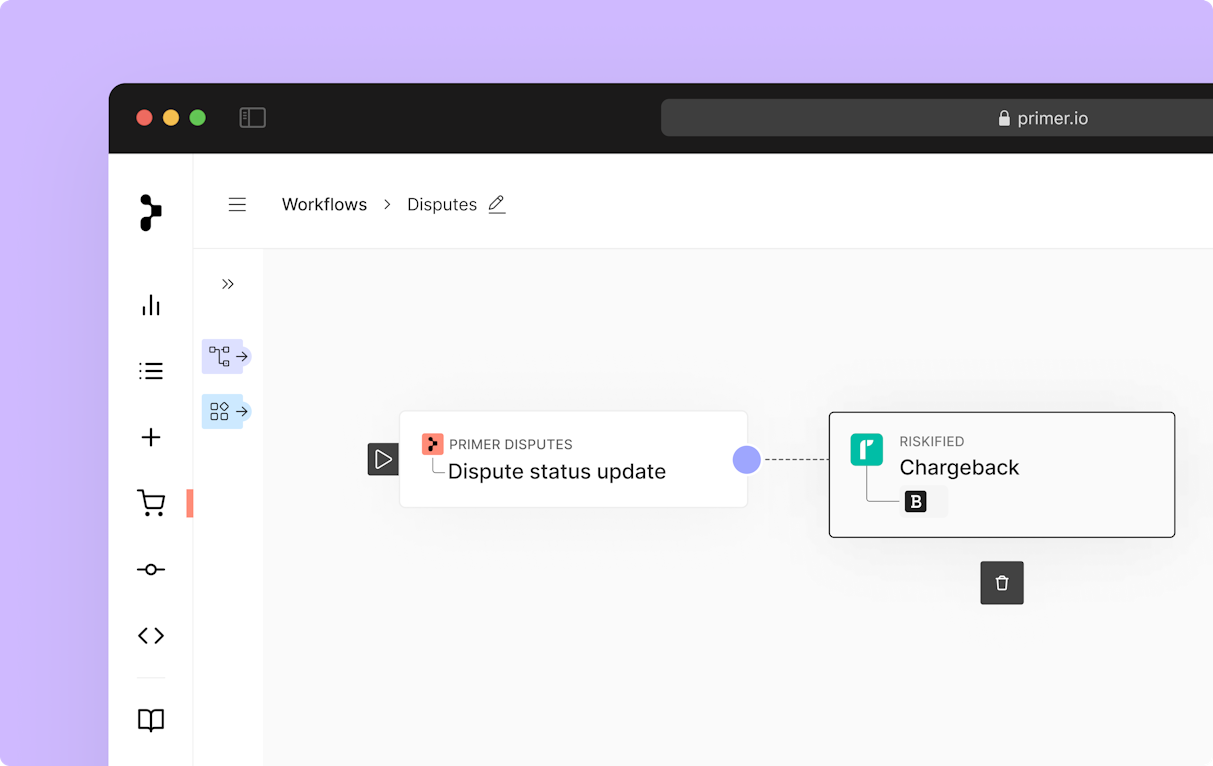 Set up webhooks in the dashboard
By using the Developers page in the Primer dashboard, in a matter of seconds, you can also set up webhooks to have this data pushed wherever you need it. This allows you to always receive dispute data in the same format, no matter which payment processor or payment method is being used. 
These webhooks allow data to be shared when a workflow makes less sense, such as sending data to a fraud engine that's been built in house.
With Primer, making use of dispute data has never been simpler. Our unified disputes product allows your team to quickly access your data and effortlessly automate data flows in Workflows, with zero code or effort required.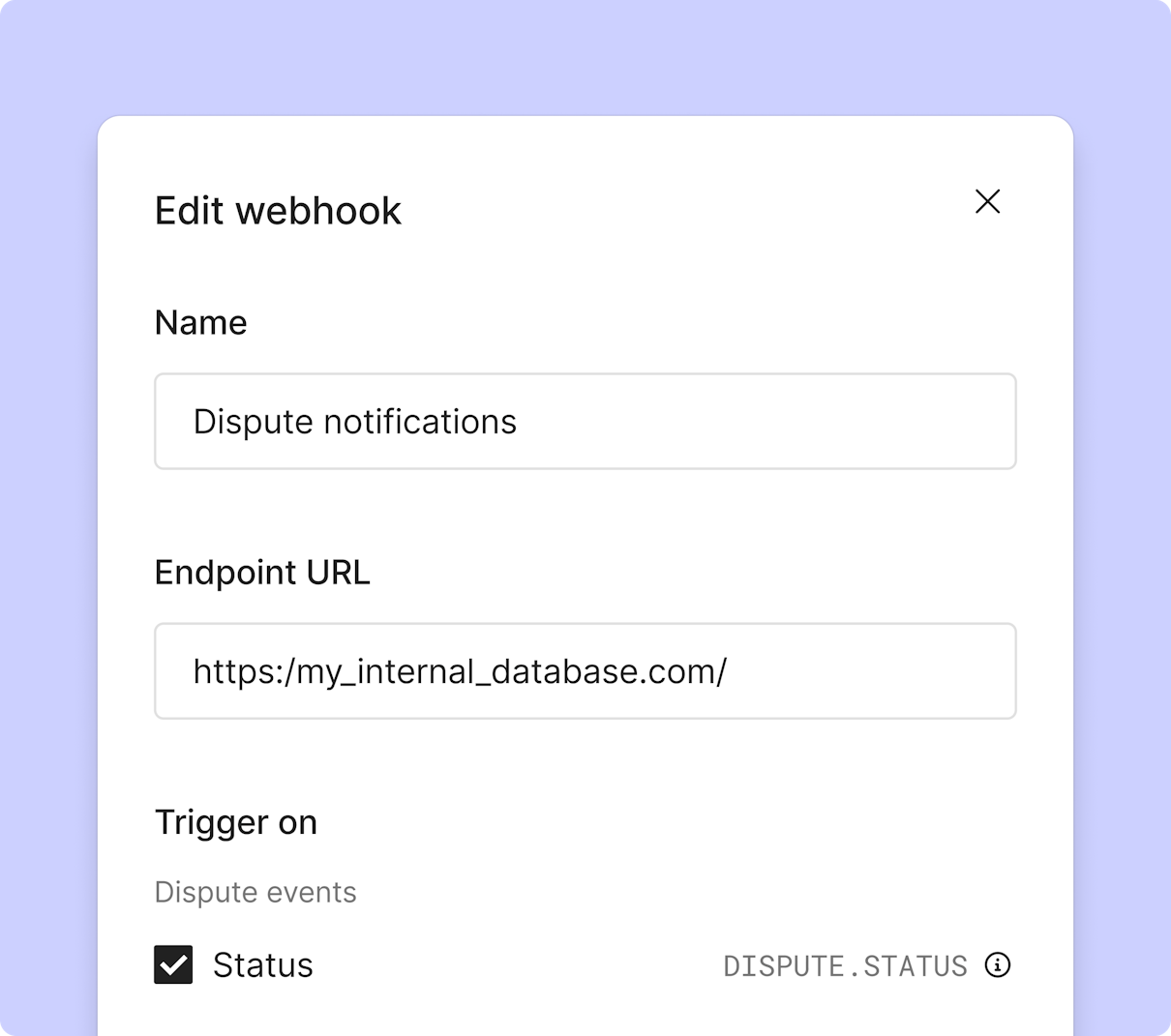 This product is currently in beta—we're working on adding more functionalities and support for additional payment processors as we go. 
Want to find out more about disputes and/or join our beta? Sign up below.
---
*Note: You may have come across the terms chargeback and dispute, which are often used interchangeably. At Primer, we utilize the more common dispute term, as chargebacks are normally associated with card payments only.