We all wish that the technology we use worked without issue. But that's rarely, if ever, the case. 
Incidents happen. It's how you show up to resolve them for your customers that matters. 
That's why product support has become a business-critical function for any technology vendor. Just consider this stat: 76% of people say they'd switch to a company's competitor due to multiple bad customer service experiences, according to research.
The bottom line: Customer service matters, especially in a space as complex and business-critical as payments. 
At Primer, we recognize its importance, and we've made substantial investments in this area. 
Our support team operates within our broader Delivery Organization, which is dedicated to providing an exceptional end-to-end customer experience. This ensures that our merchants receive a highly positive return on investment when they trust us as their payment infrastructure provider.
Here's a look under the hood into how we're building a world-class support function at Primer and the service you can expect if you choose to work with us.
Doubling down on incident response excellence
Support at Primer has a few key goals. The one I want to focus on in this post is incident response excellence. This is where our efforts come into play when things don't go as planned, and it's how we strive to secure the best possible outcomes for our customers when they encounter a problem. 
At a high level, our strategy is built around three areas: 
Immediate acknowledgment: It's key to acknowledge and start working on an incident quickly. Our first response isn't just to meet a KPI; it's an acknowledgment that we've started building our response and a chance to ask any further questions needed to truly understand an issue and its impact. So far this year, our average first response time has been 4.09 minutes.

Fast resolution: Fast resolution is our top priority. We're dedicated to efficiently addressing your concerns, offering workarounds, fast fixes, and tailored solutions to exceed your expectations and help you focus on what matters most.

Follow-up: Once we've addressed the immediate issue, we remain committed to ongoing prevention efforts to avert future occurrences.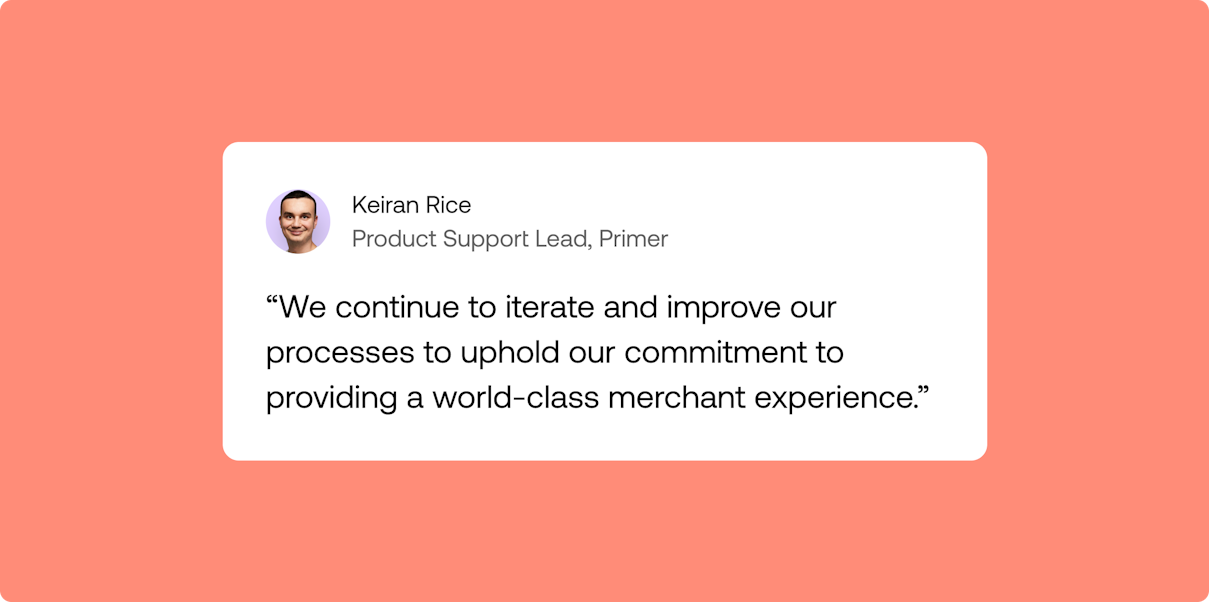 How customer support functions at Primer 
These goals are all well and good, but realizing them hinges on establishing robust processes and frameworks designed to manage incidents effectively.
First and foremost, we ensure that all incidents are routed through our ticketing system. This guarantees the prompt notification of our on-call Product Support Expert, enabling a swift and efficient response to the incident.
Once an incident is raised, we respond promptly by forming an expert response team. To streamline our communication and collaboration, we automatically create a dedicated Slack channel for each incident, where each participant assumes a predefined role. This practice aligns seamlessly with our core value of being distributed yet unified. The core incident roles include:
Incident Lead: This individual serves as the Technical Lead for the incident and is responsible for coordinating the efforts of all roles.

Reporter: The person who first identified an issue; this can be internal, external, or an automated trigger based on our comprehensive, proactive monitoring.

Communications Lead: Our Product Support Engineer takes charge of all communications with our merchants, both reactively and proactively. They also ensure our status page remains up-to-date at all times.

Active Participants: This is the broader team, encompassing Engineers, Customer Success Managers, Solution Engineers, Product Managers, and sometimes even our CEO. It's the interdisciplinary team that assembles to address the problem and implement a rapid solution collaboratively.
While the team focuses on a solution, we also work diligently to identify effective workarounds, as exemplified in a recent incident where one of the payment methods we integrate experienced an outage. Our merchants could swiftly disable this payment method, enabling them to continue processing transactions. This rapid action is a testament to the value our Primer Payments Infrastructure brings to our merchants.
We place a strong emphasis on clear, direct, and transparent communication. Honesty and transparency are pivotal in delivering an exceptional support experience, particularly during an incident.
Once the issue is resolved, we conduct a Root Cause Analysis (RCA) to ensure that any lessons learned are documented and there are clear next steps following an incident. 
At Primer, we value deliberate action and complete accountability, reinforcing our commitment to living our values.
Focusing on continuous improvements
We don't plan to stop here; continuous improvement is at the heart of everything we do. A sample of our ongoing projects to improve our incident responses are:
Incident simulation exercises: We conduct periodic incident simulation exercises to evaluate our team's preparedness and pinpoint areas for enhancement.

External collaboration framework: We're expanding our framework for collaborating with external partners during incidents, strengthening our ability to address complex situations effectively.

Customer feedback integration: Gathering feedback from merchants who have encountered incidents remains a priority. We harness this feedback to refine our incident response process, communication strategies, and overall customer experience.

Advanced RCA and trend analysis: We are dedicated to advancing our RCA  process, delving deeper into the underlying causes of incidents for a more comprehensive understanding.
There are many moving parts to every incident, and it can be easy to get caught up in cases. Our well-defined and tested incident process gives us clear roles and responsibilities to ensure you, our customers, get the best experience. 
We continue to iterate and improve our processes to uphold our commitment to providing a world-class merchant experience.
Look at our case studies to learn more about how Primer is helping the most ambitious business unleash their payment potential.