If you're an online retailer, there's a good chance you're using an e-Commerce platform to manage your web and mobile store. Whether that's open platforms like Magento and WooCommerce, or closed platforms like Shopify and BigCommerce, you're adapted to 'outsourcing' to software to handle your store catalog, inventory, shipping, and even payments.
At the same time, the way we shop and pay online is changing. Now customer expectations — your expectations — are for payments to "just work". For online retailers, it's no longer enough to just offer card, particularly if you're trying to convert traffic from different countries, mobile devices, social traffic, and more.
Now customers expect alternatives like PayPal, the seamlessness of Apple and Google Pay, the affordability of Buy Now Pay Later like Klarna and Afterpay, and so on. With all the new technologies driving all the new payment trends, together with managing fraud, data, tax, vouchers, 3DS, and more behind the scenes, the reality is that no single payments solution covers everything.
Payments are evolving faster than e-Commerce platforms and their partner ecosystems can keep up. Without every online retailer developing their own payments abstractions to tie a modern payment stack together, online retailers using e-Commerce platforms miss out on widely-available capabilities and "know how" to drive growth.
Payments are a strategic growth lever for e-Commerce. Checkout optimisation should be more than just skin-deep customisations around look-and-feel. It should extend into your end-to-end payments flows that are truly optimised for every market. Each country, demographic, device, and even each individual customer has a distinct way to pay.
At Primer, we're on a mission to fix the checkout forever. We believe in enabling online retailers to deliver their best buying experience for their customers. We believe that means creating an open platform for payments, beautifully designed, and low (ideally no) code to empower everyone in commerce.
Today, we're excited to announce Primer Plugins
We're releasing Primer Plugins for every major e-Commerce platform, starting with Magento 2. With plugins, anyone can integrate Primer's Universal Checkout into your web and mobile store in a few clicks and benefit from a complete payments infrastructure, including:
Universal Checkout to present a unified, modern checkout, natively in your web and mobile to all your customers, all managed with point-and-click ease

Connections to enable you to add new payment methods and processors, as well as fraud, data, messaging, and other tools in clicks

Workflows to create your ideal end-to-end payment flows to increase payment success, lower risk, lower costs, unify fraud, and more
With Primer Plugins, you can replace all your other shopping cart plugins, customizations, and overhead around your payments, and still take full advantage of any payment service you desire through Primer. Now you can build your own payments infrastructure that is on par with the biggest and best online retailers - all without any engineering overhead.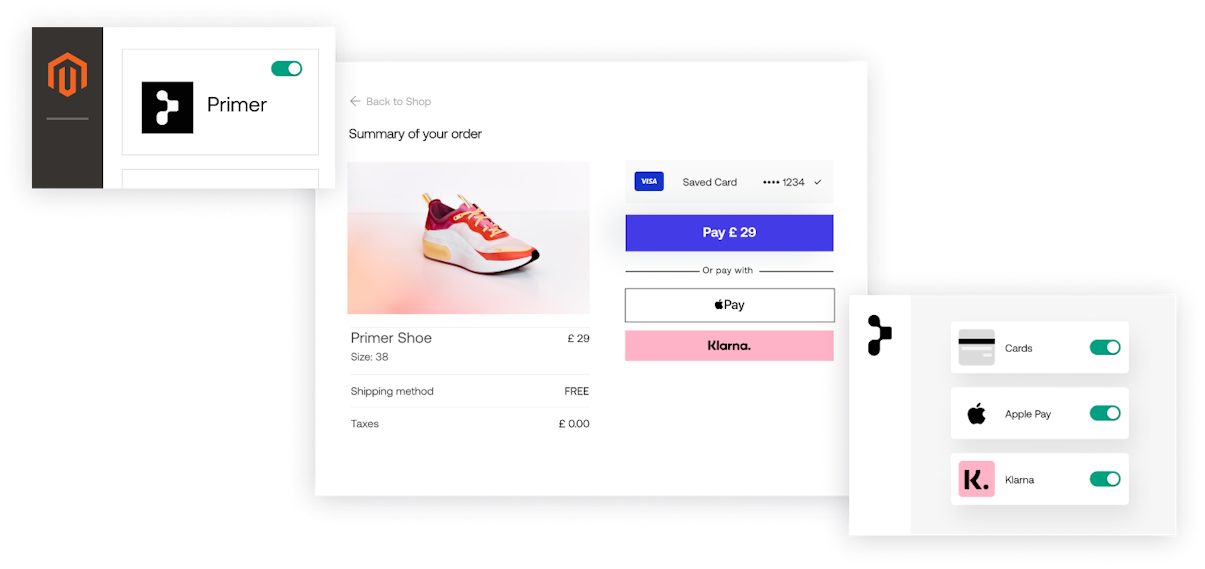 How Primer Plugins work: our Magento 2 example
Primer Plugins will present the Universal Checkout natively within your web or mobile store, then sync your payments with your online platform. You can then configure all your payments infrastructure within your point-and-click Primer dashboard.
It is really simple to setup:
Add the Primer Plugin to your Magento 2 store via the Magento Marketplace

Click to enable all the Connections you need in your Primer dashboard

Finally, configure your Universal Checkout and the Workflows you need
That's it!
Read the full documentation for the Primer Plugin in the Magento Marketplace.
Ready to get started? See the Primer Overview and signup.
Primer Plugins: no-code Universal Checkout for all online retailers
Over the coming months, we'll be releasing plugins for every major eCommerce platform, and other commerce and billing platforms, too.
Interested in partnering? Primer is an open, agnostic platform for payments - sign up as a partner or a merchant today.