The world of payments is incredibly dynamic. Merchants have what seems like infinite options to decide how they manage payments traffic in service of their KPIs. Yet, when speaking to merchants about all these options, the conversations often center on the complexity rather than the possibilities these options create. 
Scratch beneath the surface, and it becomes clear why. The systems most merchants use to manage payments traffic are anything but dynamic, meaning minor changes require significant effort. Consequently, building a payment operation with agility and experimentation at its core is costly or entirely out of reach. 
We want to change this and make it simple for merchants to control and manage their payment traffic. That's why we've built 'Split,' a new feature that makes it easier for merchants to test and optimize how they manage payments traffic. 
Whether it's testing processor performance, optimizing costs, or running experiments, merchants can now dynamically split their traffic using percentages with just a few clicks and without building complex branching conditions. 
Let's look at some powerful use cases 'Split' empowers.
A/B test across your payments stack
Want to see which of your processors delivers the highest approval rates in Spain? Or do you want to understand how your PSPs stack up when processing euro payments? With Split, you can do just that. In just a few clicks, you can build A/B tests to compare the performance of up to five processors—or any other part of your payments flow.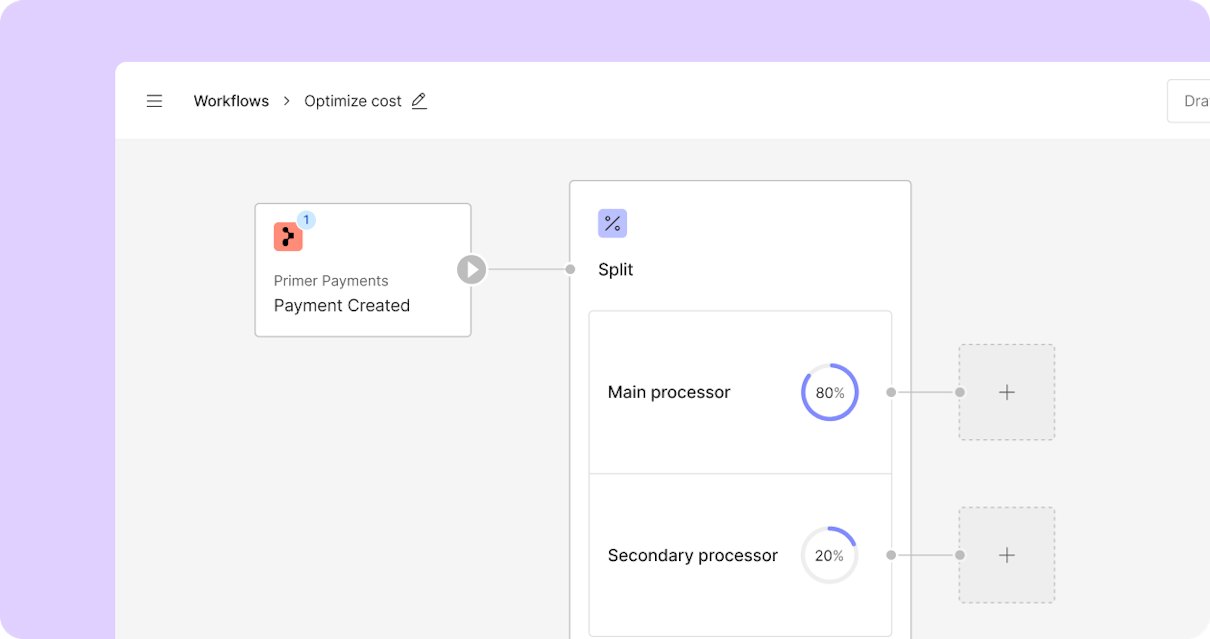 Meet minimum volume commitments
Setting minimum volume commitments when contracting with PSPs allows you to achieve better commercial terms. Using Split, you can easily meet these requirements and make changes on the fly as your commercial agreements, performance, or business priorities change. For instance, you could introduce a percentage split between the primary and secondary processors, giving you the best performance while sending enough traffic to your fallback processor to meet volume requirements. And when you strike new commercial agreements, you can quickly rebalance your traffic distribution again for authorization success and cost optimization.
Learn more about Split on our Docs site.
Migrate traffic
If you're ending your relationship with a PSP, you can't pull the plug immediately—that's a surefire way to damage your performance. Instead, you must decommission it carefully, gradually moving your volume to your other PSPs. This process will allow you to 'warm up' your new MID and avoid a significant dip in authorization rates. The same logic is true when ramping up a new provider. And, with Split, you can do all of this at your own pace.
Better handle those expected (and unexpected) spikes in traffic
Imagine you're a retailer, Black Friday has arrived, and you're anticipating a massive spike in traffic—it's the day you make 25% of your annual revenue. You're ready, but are the partners in your payment flow? Can they handle the spike in traffic? It's better to be safe than sorry. If part of your payment flow can't handle the surge—or there is an unexpected outage—it'll leave your potential customers unable to complete their purchase and, most critically, a lot of revenue on the table. 
However, the repercussions extend beyond immediate revenue loss; your business's reputation could also take a hit. Take the case of a ticketing website selling Taylor Swift tickets and fans losing out on tickets they thought they'd secured because they couldn't complete their purchase at the checkout because of a system outage.
To mitigate the risk of such nightmarish scenarios, consider leveraging Split. This solution allows you to strategically distribute payment traffic across multiple processors and participants within your payments flow. By doing so, you can avoid overburdening any service and ensure a smoother and more reliable payment experience for your customers.
Test and experiment beyond payments
You can also utilize Split to test and optimize processes outside your payments flow. For example, you can uncover which channels work best when confirming an order with a customer or determine the most effective subject line for your order confirmation emails. With Split, you can conduct these tests and more, leading to increased customer satisfaction and reduced calls to your support team.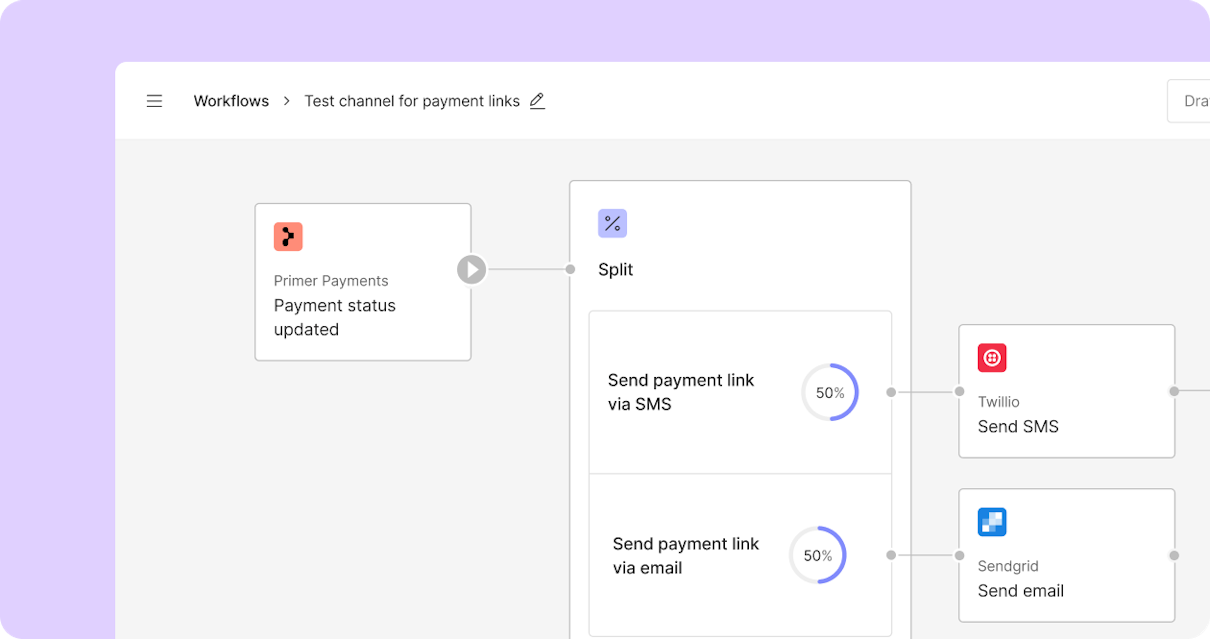 Learn more about Split
Merchants on the Primer platform can now utilize Split to effectively manage their payments traffic and consistently experiment, acquire knowledge, and enhance their payments and commerce processes.