A recent research paper from Forrester uncovered an interesting trend: merchants seek more than just a transactional relationship with payment vendors. They want to feel like they are the vendor's top priority, with a dedicated account team armed with ample resources, ready to approach them with fresh ideas and proactive advice.
It makes perfect sense, right? Payments are complex, fast-paced, and crucial for the business continuity of merchants. Their payment infrastructure must perform flawlessly at all times.
However, payment vendors don't always share this view. According to Forrester, many merchants believe that their vendors still operate under the assumption that it's the customer's responsibility to generate ideas, while the vendors focus solely on execution.
That's not how we see it at Primer. Our role extends beyond providing merchants with a Unified Payments Infrastructure. Our mission is to equip them with everything they need to optimize, scale, and leverage their payments to drive business growth and innovation.
That's precisely why we've invested in building and growing our customer success team from day one. It ensures our merchants can access the insights, expertise, and solutions required to accomplish their business objectives.
Let's dive deeper into what that entails and how we think about customer success at Primer.
Defining Customer Success at Primer
So, what do we mean when we talk about customer success? It's a great question. Customer success is a relatively new field that often lacks a clear definition. Here is how we perceive it:
Our customer success team is a strategic unit whose sole mission is to partner with our customers. We provide them with invaluable insights, guidance, and solutions that bring them closer to achieving their business goals.
It's a role that merchants might sometimes confuse with support and account management, mainly because they've often dealt with other payment services that try to equate customer support with customer success.
Don't get us wrong; excellent account management and support are crucial functions—learn more about how we're investing in Product Support. However, the ways of working, objectives, and value provided to customers differ significantly between these roles and a customer success team.
A customer success team operates as an extension of the merchant's team, actively seeking and addressing issues before they even register with them. We empower merchants to achieve their goals on our platform and realize a substantial return on their investment. 
But we don't stop there; we're also here to assist them in solving problems that may extend beyond Primer's current product scope—whatever it takes to guarantee our merchants' success with their payments.
How we deliver Customer Success 
Customer Success is at the core of what we do here at Primer, and it's intricately tied to our overarching mission: to transform payments and commerce from the ground up. And part of that transformation is redefining the level of service merchants should expect from their payment partners.
To be candid, the service most merchants receive from traditional payment partners often falls short of expectations. While there are pockets of excellence, the relationship between merchants and vendors is often commoditized and impersonal. It's a surprising reality when you consider the critical role payments play in every business.
Our founders recognized this gap and, from the very beginning, ensured that Primer had a dedicated customer success team in place. And the fundamental principles guiding our team's operations have remained unchanged since day one. We don't merely work with our customers; we immerse ourselves in their organizations, striving to develop a profound understanding of their workflows, objectives, opportunities, challenges, and unique nuances—just as if we were full-time members of their company. This collaboration begins the moment the contract is signed.
However, this is where our playbook ends. Every one of our customers is unique, and so is our approach to serving them. Each customer success team member enjoys complete autonomy in determining how best to support each account.
For example, some of our customers lack a dedicated payment team. In such cases, we step in to fill that role. We guide senior management on their payment strategy, collaborate with other providers in their payments ecosystem, analyze their performance, and provide suggestions on how they drive payment success. Moreover, we're not just about offering recommendations; we take action within the Primer platform to implement those changes where needed.
Learn how we helped one of our customers achieve a 7.5% authorization uplift. 
Some customers may already have internal payment expertise. In these instances, we function as an extension of their team, complementing their existing knowledge and capabilities. This may involve close collaboration with a specific payment service provider (PSP) to resolve issues on behalf of the merchants. It could also entail crafting customized reports for their board, offering a comprehensive view of their payment landscape. It might even mean sitting with our stakeholders in leadership meetings to provide unique insights and perspectives.
Customer success is not just a team; it's a mindset
While we have a dedicated group of individuals responsible for ensuring customer success, we understand that achieving it requires a collective effort where every team member plays a pivotal role in helping our customers reach their goals.
We take this commitment very seriously. When an issue arises, we mobilize our entire organization to resolve it, even if it means burning the midnight oil on a Friday. After all, payments never sleep, and every moment is crucial to prevent revenue loss.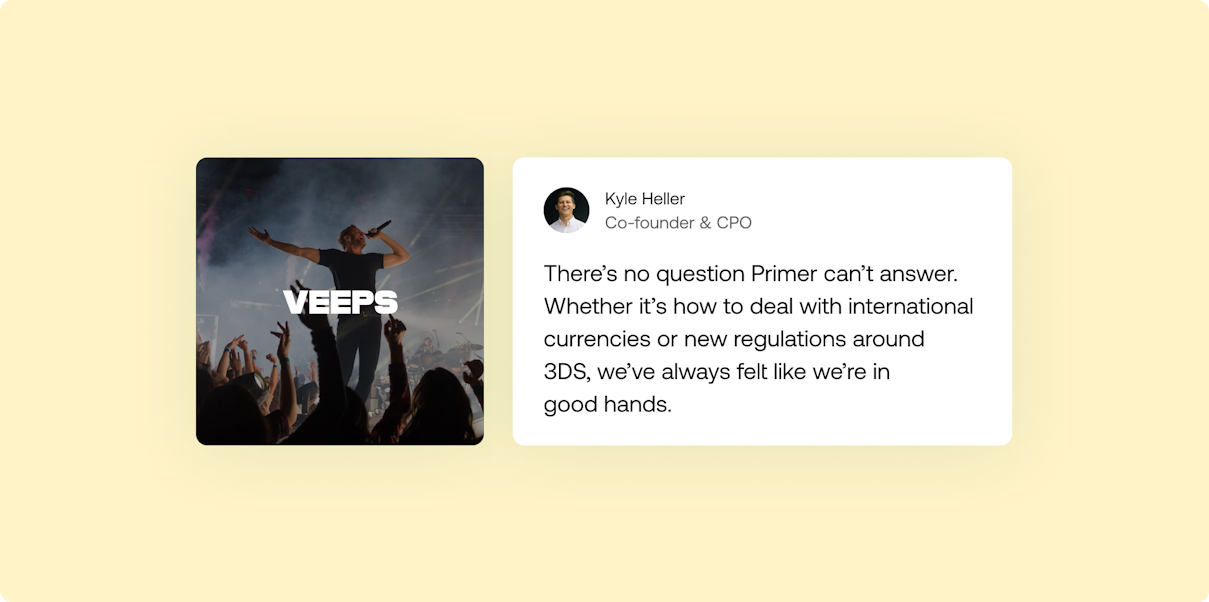 Merchants working with us also gain access to every member of our team. They can engage in conversations about payments in general, seek insights on specific topics, or tap into the expertise of our local payment specialists worldwide to gain a deeper understanding of payment intricacies in particular markets.
We don't have to go to such lengths, but when you stand between a merchant and their money, going the extra mile pays off.
Introducing The Delivery Group
Primer is nearly four years old. The business has grown significantly in a short space of time, seeing us support enterprise merchants around the world. But we're only at the start of the journey, and our customer base is growing by the week. 
As an organization, this growth demands an evolution in our ways of working. We've recently asked some tough questions about what this means for our approach to customer success, specifically how we can maintain the same level of service with ten times the number of customers we have today.
We firmly believe an organization's long-term success is tied to its ability to invest in an exceptional post-sales experience. This belief has led to the creation of the Delivery Group. This newly established entity within Primer brings together our Customer Success, Solution Engineering, and Product Support teams, all with a shared mission of crafting a seamless end-to-end merchant experience.
To achieve our mission, we're focusing on three workstreams:
Activation: Ensuring new customers get live on Primer quicker than ever with a solution fully tailored to their unique needs and requirements.

Growth: To partner closer than ever with customers to provide them with the insights, guidance, and solutions they need to meet their goals.  

Satisfaction: Provide the best experience at every touch point in the merchant lifecycle.  
While this may appear to be a minor change in our organizational structure, it can potentially create a significant impact, benefiting both the merchants already part of the Primer family and those who will join us. We're excited about this new chapter and are fully committed to ensuring Primer remains at the forefront of customer success in the payments industry.
Final thoughts 
Customer success has, and always will be, a core part of our offering to merchants. We're dedicated to simplifying the complexities of payments, and our people play a crucial role in achieving this alongside our infrastructure.
If you'd like to learn more, get in touch. Or take a look at our case studies if you're interested in seeing what merchants using Primer are achieving.