"Ecommerce platforms are dead, right? The idea of a 'one-stop shop' for everything online retail is dead. Gone. Buried. Bye Bye."

Gus Fune is the CTO at Divbrands, a global ecommerce business that's launched 17 brands in 19 international markets. He posted the provocative statement above on LinkedIn. And it caused a bit of a stir. 
Divbrands, whose brands include Baerskin Tactical Supply Company, Hyper Arch Motion Sneakers, and Cozi Slides, has been on an interesting journey over the past 18 months. The company has re-platformed twice after outgrowing one platform and moving to another platform that overpromised and underdelivered. 
Now, Divbrands is forging its own path, leaning into the trend of composable commerce to build an ecommerce platform that harnesses best-in-class components to provide the capabilities required to achieve its mission of delivering unique products and services that its customers genuinely want.
We caught up with Gus to learn more about this journey and why it has selected Primer as its Unified Payments Infrastructure. 

Marc Aussure, Head of Customer Success at Primer: Gus, your LinkedIn post struck a nerve. Tell us more about what you meant.  
Gus: It was partly tongue-in-cheek. Of course, there will always be a large market for these platforms. But my point was that these platforms aren't the only way to go. Looking at our business over the last few years, that certainly holds true.
We're an ambitious business with a mission to deliver unique products and services that our customers genuinely want. We can only achieve that by being agile, innovating, testing, and continually iterating. Unfortunately, these platforms haven't provided the foundations for us to do that, at least not to the required level.
Marc: So you've abandoned these platforms and built a bespoke platform for Divbrands. How's that journey been?
Gus: Correct. After encountering issues with the headless platform we adopted, we took a step back and considered if there was an alternative approach. We concluded there was. We've embraced the concept of composable commerce and essentially constructed our own platform.
We've achieved this using components we already had and others we developed internally. When developing functionality in-house wasn't practical, we incorporated best-in-class services offering agility, flexibility, and scalability.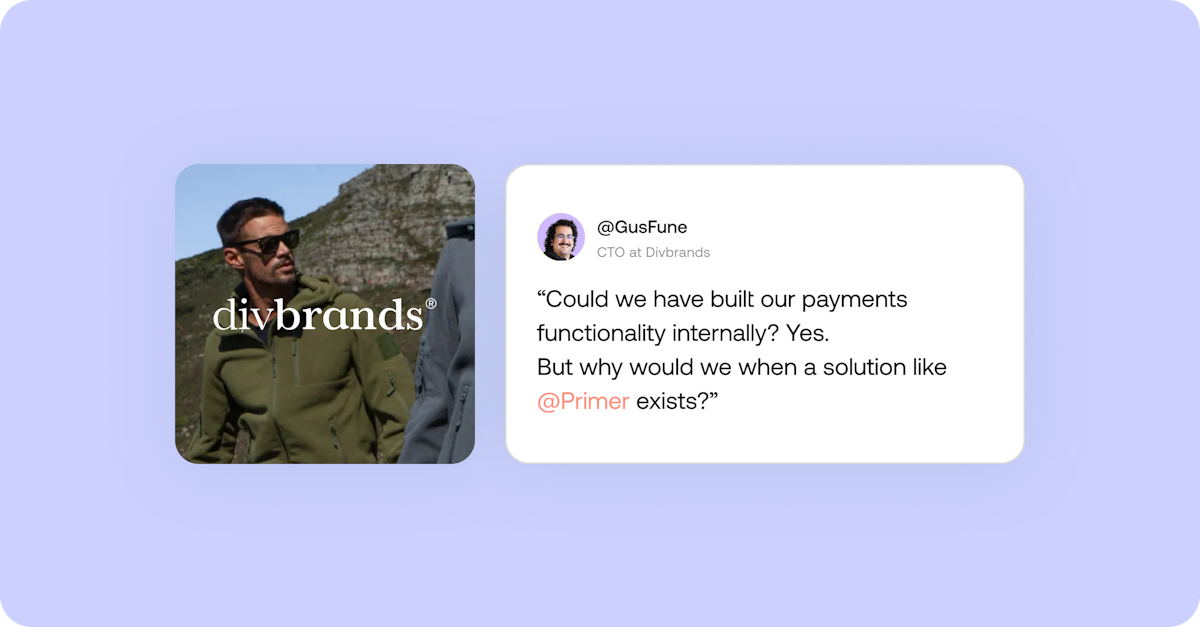 Marc: Payments are one of the areas where you've chosen to use the services of a partner. Why did you make this decision?
Gus: The payments landscape is complex and incredibly fragmented. This creates an interesting challenge for a business like ours, requiring us to build and maintain many integrations with different processors and payment methods globally.
Could we have built our payments functionality internally? Yes. But why would we when a service like Primer exists?
We're a team of four working in a business that requires its infrastructure to deliver agility at a global scale. Primer allows us to consolidate and access our payment services for all our brands across 19 markets through one integration. It was a no-brainer to partner with them.
We're already seeing the value of this decision. We went live in June 2023 with Primer orchestrating payments through our two PSPs, Stripe and PayPal. We've since added Worldline and Adyen, giving us redundancy, improved local coverage, and the ability to experiment with routing payments through different providers to optimize performance.
Setting up each connection and starting testing took no more than five minutes. This is lightning fast. Before Primer, adding a new provider would take the team two weeks or more—time we didn't have.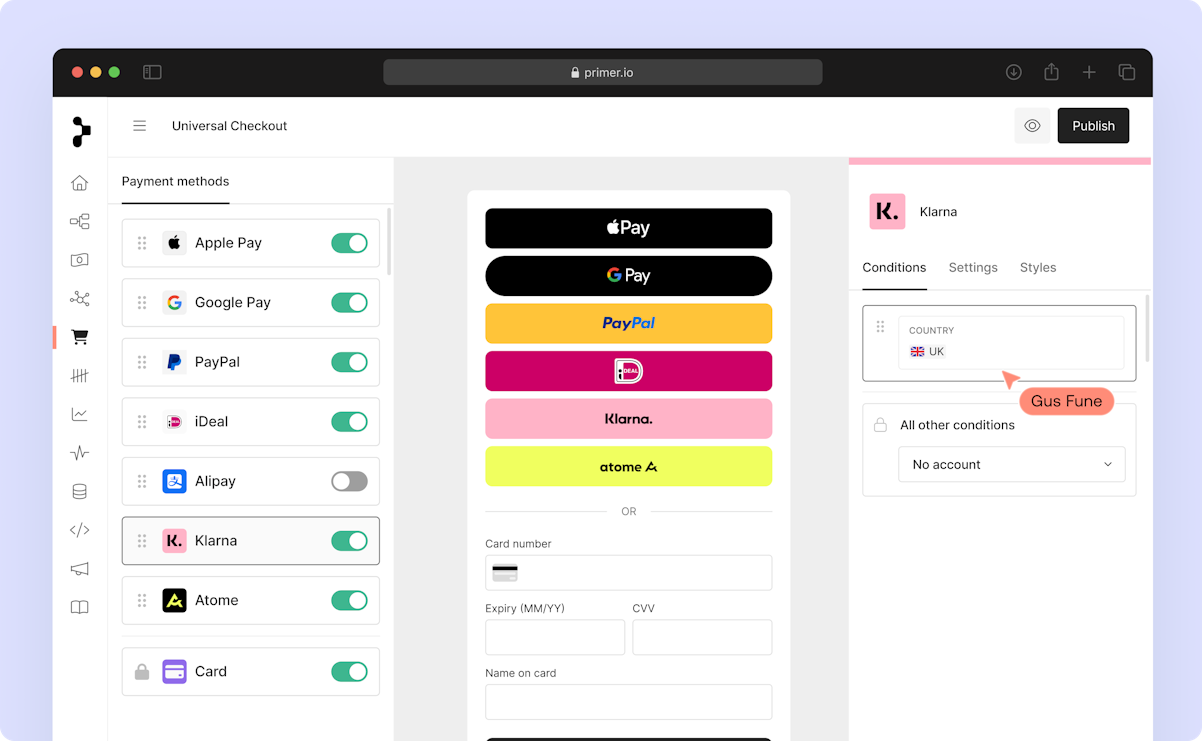 The same is true when adding new payment methods. Once we've contracted with the payment method, it takes just a few clicks to go live on Primer—it's effortless. This capability opens up a range of strategic opportunities. For instance, we've gone live with Klarna globally and Atome in Singapore to drive sales using Buy Now, Pay Later. We're also exploring using Alipay and WeChat Pay in various markets across APAC.
Marc: That's quite a difference in the time it takes to flip the switch on these new services. What other value have you unlocked from the Primer platform so far?
Gus: Firstly, it's worth pointing out that our average authorization rate is 90%. And we've established fallback capabilities to pick up any failed transactions and recover potentially lost revenue. I can't understate how important this is. We spend vast sums bringing people to our site and convincing them to purchase. We can't tolerate losing sales due to payment failures; the cost is too great.
Our overall checkout experience has improved since using Primer as well. Universal Checkout supports multiple languages out of the box—we're currently deploying it in three languages. It's easy to customize, so we now have a checkout form that matches the overall brand experience we're trying to create. It's also lightweight, making it accessible to all our customers worldwide, even those in rural areas with poor internet connectivity.
We've also utilized Primer's Workflows to ensure we only ask customers to authenticate using 3DS where SCA (Strong Customer Authentication) applies. The workflow was straightforward to set up—it's literally drag and drop.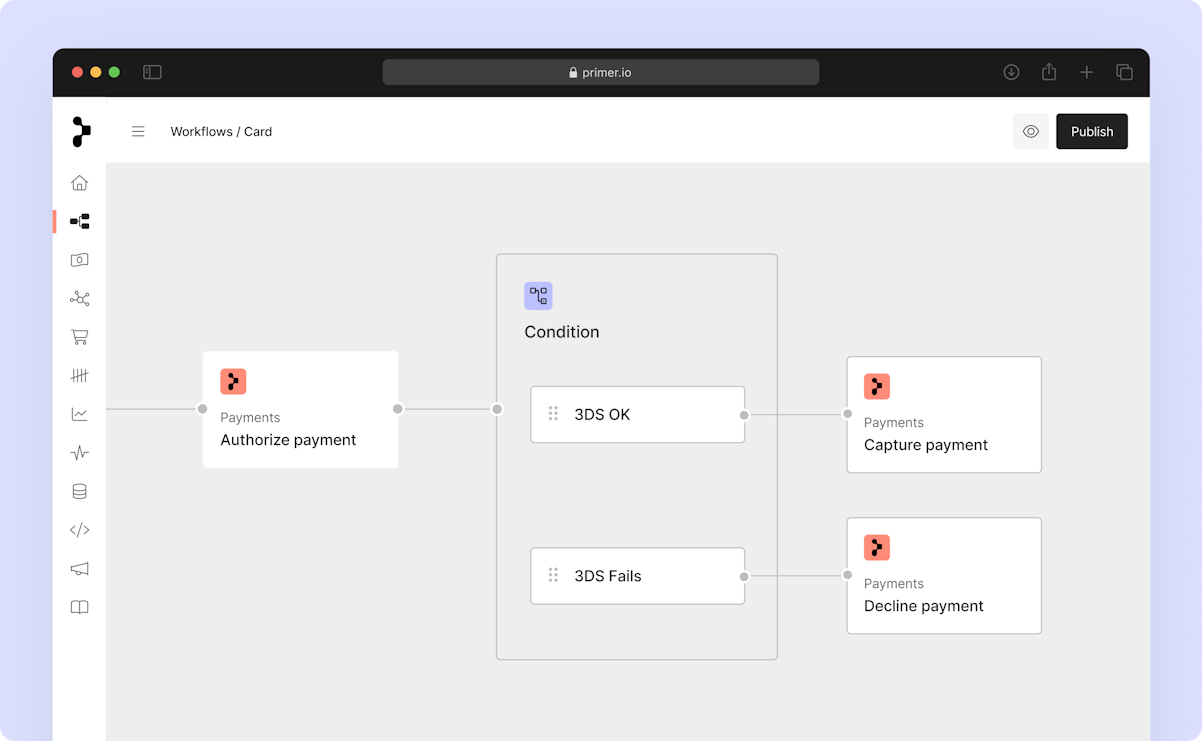 With just a few clicks, we alleviated much of the pain that SCA brought us; we're now compliant while minimizing customer friction. Attempting to achieve something like this without a solution like Primer would require significant resource investment.
Marc: These are exciting first steps, Gus. What's next for Divbrands? And how does Primer fit into the equation? 
Gus: We're at the beginning of this new phase for the company. But if early results are anything to go by, our decision to break the status quo and think differently has paid off. Our conversion rates have increased, and the overall user experience has skyrocketed.
What's next? We're now focusing on enabling more payment processors and methods through Primer. We're also working with the Primer platform to decrease our cart-to-order time. We've seen this drop to 3 to 4 seconds—this is huge for a business like ours.
Keep your eyes peeled for a more in-depth case study with Divbrands later this year, and check out our other case studies.