Primer is the world's first payments and commerce automation platform. In a nutshell, merchants use our no-code framework to enable and connect any payment or commerce service existing in the ecosystem today, anywhere in the world.
We move fast to implement new features and services available on the market, sometimes in less than a week. We also make a point of listening to our merchants. In fact, the services they request often drive which partners we want to work with next.
Some important things you should know
Primer is completely agnostic. 
Our framework's unique functionalities provide us with a holistic view of our merchants' payment ecosystems (a God view, if you will). However, knowing this, we choose to remain unbiased when it comes to partnerships, allowing our merchants to pick and choose literally any service they want to use on Primer. This is core to the trust they have with us.
What's more, this high-level overview lets us look ahead to 18-24 months from now. We try to predict our merchants' needs based on what they're using today, taking into account new services on the market, as well as growing payment and commerce trends.
Today, merchants are using many different commerce services.
As the payment space expands at lightning-speed and new services pop up all the time, no individual solution can solve all the merchant's problems or cover all needs. 
Some providers offer multiple payment methods as part of a package. So, a merchant can choose one processor, which may provide decent coverage of payment services in a particular region. Still, that provider would not be able to cover all regions. For example, if a merchant wishes to add Atome as a payment option, their processor may not offer it or other services in the APAC region for legislative or regulatory reasons.
Worse still, internal priorities and roadmaps also determine when new services are eventually added by the processor (if at all). Processors can only offer what's within their individual capabilities.
Complicated integrations make you lose money.
To solve this issue, merchants often try to add the services they want independently. Their developers must tackle complex integrations, testing and maintenance, all of which is incredibly inflexible and time-consuming.
This can seriously delay the go-live on the partner's end, your end—which ultimately impacts your business' bottom line.
*Cue Primer*
Primer's framework creates an open distribution channel for services right across the payment and commerce landscape to go-to-market. With one quick, no-code integration, your merchants can replace all other integrations, customisations and headaches with a broad array of payment and commerce solutions.
They get to choose one or multiple processors to cover their bases, plus any number of services they need, including online banking, alternative and local payment methods, digital wallets, BNPL, fraud and more.
In our world, these services are called Connections, and they form the basis of Primer's partner ecosystem.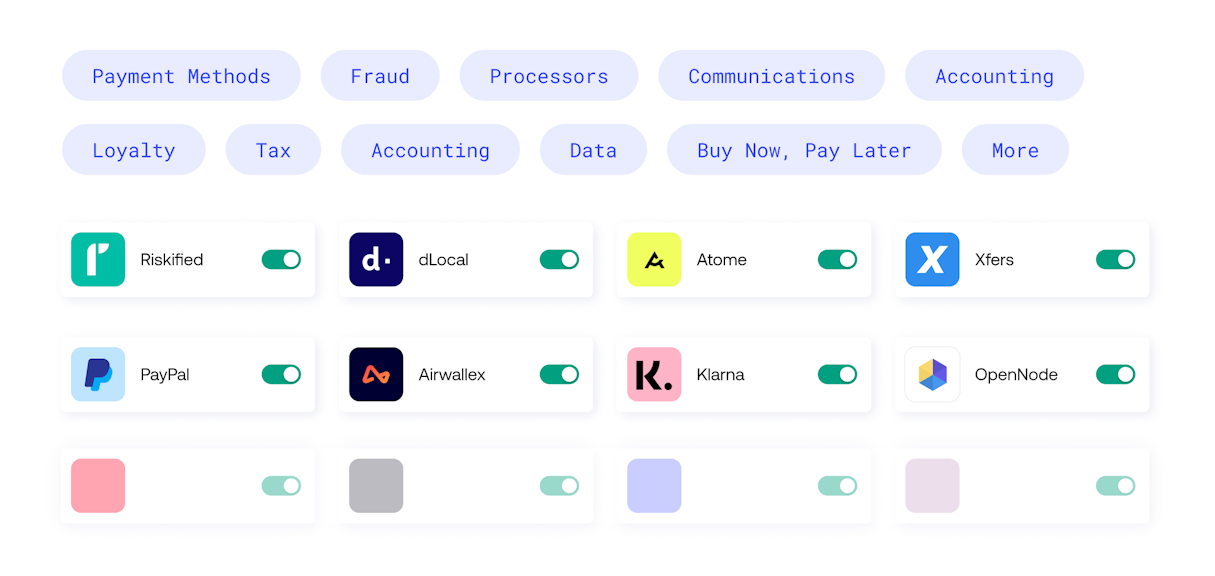 How Primer works with Connections partners
There are a few key components to how we engage with our partners:
1. You own the commercial relationship with the merchant.
Our merchants use Primer as the underlying, enabling payment infrastructure for all services across their payment stack. However, the services offered by each Connection partner on Primer are directly provided to the merchant. Meaning, the individual payment processor handles transactions for the merchant. Or, the fraud provider conducts its risk checks for the merchant.
Every merchant still commercially onboards with each service they want to use, then simply connects them on Primer in a few clicks. Fees for using partner services are paid to the relevant partner directly, just as they usually would be. Bottom line: Primer doesn't get in the way.
2. Merchants decide which Connections they want to use.
Part of being 100% agnostic means we don't advise our merchants on who they should or shouldn't use. We mean it: no preference is shown between our Connection partners on Primer.
We empower merchants with the freedom to pick whichever payment or commerce service they need, whenever they need it. It's completely up to the merchant to decide which service they want to use.
Besides, we have no cap. Our merchants can connect as many services as they like on Primer.
3. Anyone can become a Connection on Primer.
Any type of payment or commerce service that's beneficial to our merchants can be a Connection on Primer.
We work with many types of services across the board. Multiple payment processors, diverse payment methods (APM), fraud and risk tools, advanced marketing services, business analytics, tax calculation, finance and accounting, ERPs, messaging systems, CRMs and more.
From the get-go, we onboard partners by providing training, collateral and anything else your team needs to educate merchants on working with Primer. Any service can be instantly enabled on Primer, resulting in an insanely fast go-live within a merchant's ecosystem.
We're open to opportunities and want to allow our merchants 360° coverage of their commerce tools and services. Anything is possible.
Interested in partnering with us?
Contact partners@primer.com to find out how you can accelerate the adoption of your service through Primer.