As Primer scales and works with more merchants worldwide, we've witnessed an increasing appetite for cryptocurrency as a payment method. We're excited to announce that for the first time, merchants using Primer can add crypto payments to their checkout with just a few clicks! 
This article will dive into the benefits of offering crypto as one of your payment methods and show how you can integrate it in minutes with Primer's Universal Checkout.
Crypto on the rise
The votes are in. Global merchants on Primer have been requesting crypto wallets and the option to accept cryptocurrencies as a payment method. New research shows that one-quarter of consumers prefers merchants who accept cryptocurrencies at checkout. Crypto has reached a historic high in the U.S., with 23% of consumers owning at least one type of cryptocurrency in the past year; that's nearly 60 million potential customers. With 40% of globally-surveyed consumers planning on paying for goods and services with crypto in the next 12 months, it's no wonder merchants are increasingly exploring this emerging payment method to futureproof their checkout. 
Crypto payments offer additional benefits. Since these are cash-final transactions, often with near-instant settlement and no fees, chargebacks can be avoided, eliminating one of the greater pain points merchants face.
However, integrating any payment or commerce service is a serious hassle. To orchestrate all the different payment methods they currently offer, merchants are forced to build, not to mention maintain, a multitude of individual, fragmented payment integrations.
Primer brings crypto to your checkout, hassle-free
Crypto has been on our radar for a while now. We identified the growing need for a scalable solution that efficiently implements crypto at checkout alongside traditional payment methods, like cards and digital wallets. 
Primer's Universal Checkout and Workflows make this possible. Now, with the click of a button, you easily enable crypto payments at checkout, which fit right in with your existing payment and commerce stack, no matter how comprehensive it may be.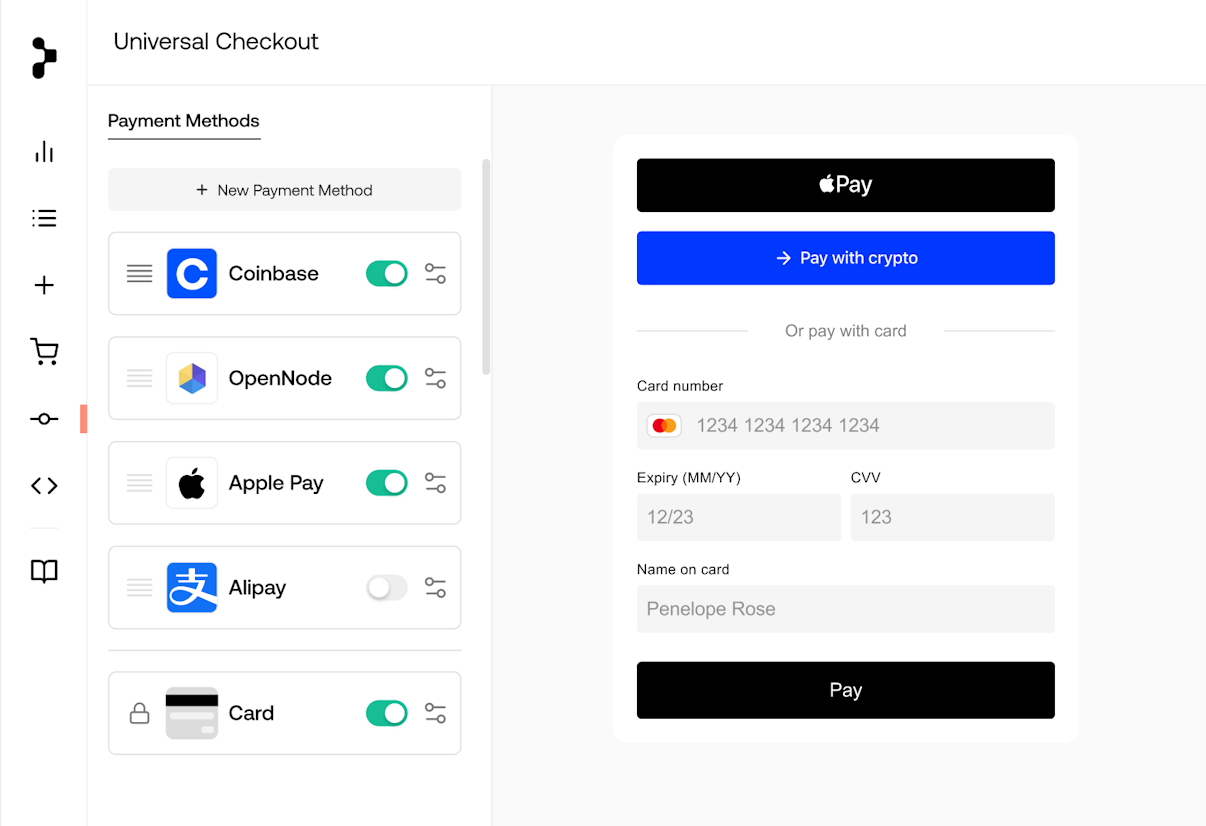 We've been working closely with several cryptocurrency platforms to integrate their products with Universal Checkout. One of these is Coinbase Commerce, which helps merchants easily accept and manage various cryptocurrencies.
Drew Rogers, Account Executive from Coinbase, explained why it was important for Coinbase Commerce to connect with Primer:
With Primer, merchants like Compass Mining, a Bitcoin-first company on a mission to help more people learn, explore and mine Bitcoin, have enabled their customers to pay with crypto using Coinbase Commerce. Compass Mining CPO, Jameson Nunney, enjoyed how easy the integration was:
We've also partnered with OpenNode, an industry-leading Bitcoin payment processor and infrastructure provider, empowering merchants across the globe to accept Bitcoin for products and services. Merchants using Primer now get an easy 1-click connection to start accepting Bitcoin in their checkout experiences. Head of Strategy at OpenNode, Josh Held, adds:
What's next?
Our team is always working to add more crypto providers and apps to Primer, so stay tuned for more Connections coming soon.
Crypto as a payment method is evolving dramatically. We're happy to share that Primer will soon support Web3 wallets on Universal Checkout, as well as more crypto platforms and exchanges.
We're working with a select group of merchants to test Web3 payments. If this is something you're interested in exploring, get in touch with us.