Online commerce is booming in the U.S. The U.S. is the second-largest ecommerce market in the world, with $1.163.49 billion in estimated online sales in 2023, second only to China.
U.S. consumers are buying (lots), but how are they paying? Keep reading as we explore the most popular online payment methods in the U.S. and reveal consumer payment preferences in the region. Additionally, we'll explore how ecommerce merchants can capitalize on popular alternative payment methods to enhance revenue streams.
What are alternative payment methods?
In a nutshell, alternative payment methods are any option other than traditional debit, credit cards, or cash payments. Alternative payment methods include digital and mobile wallets, direct bank transfers (also known as wires), buy now pay later (BNPL), and cryptocurrency.
Payment methods in the U.S.: The evolution of how consumers pay
Over the past five years, consumer payment preferences have significantly evolved due to external factors such as the global pandemic and rapid technological advancements.
According to 2023 research conducted by McKinsey, digital payment penetration surged to 89% in 2022, with 62% of users employing two or more forms of digital payment.
Although not surprising, credit and debit cards maintain their widespread usage and serve as the primary payment methods for numerous consumers. However, how consumers use cards has shifted significantly toward contactless and digital wallet-based transactions, as they provide a faster, more convenient, and safer way to make payments. This shift indicates the changing consumer preferences and increasing technology adoption in the payment industry.
Another intriguing trend is the evolving demands of U.S. consumers, who seek more than just payment functionality. They are increasingly interested in integrated loyalty and rewards programs and solutions offering a comprehensive array of financial services that seamlessly integrate with their existing apps.
Let's dive into specific data outlining the U.S. frequently used payment methods.
Interested in learning about alternative payment methods in other regions?
Payment methods in North America at a glance 
Here are four statistics to get a high-level overview of the types of payments popular in the U.S. and key payment trends:
U.S. payment methods in detail: How do shoppers pay in North America? 
Let's look at the different forms of payment available in the U.S. and how they fare in comparison. Read on for our list of payment methods in the U.S.  
Automated clearinghouse (ACH) or bank transfers
ACH transfers involve bank-to-bank electronic transfers that occur independently of card networks such as Visa and Mastercard. While accepting ACH transfers offers a cost-effective option for businesses, it's important to note that settlement times for ACH transfers are typically longer than other payment methods.
Buy now pay later/Installment payments
BNPL hasn't been particularly favorable with U.S. consumers. The use of BNPL in the U.S. declined among all age groups in 2023 for the third successive year. Despite this, some big names in the U.S., including Affirm, Afterpay, Klarna, Sezzle, and Zip, want to make a mark and bring BNPL into the mainstream. 
Cash 
In 2022, 41% of Americans say that none of their purchases in a typical week are paid in cash. The decline in popularity of cash as a payment method varies by age, income level, and even race/ethnicity. 
Checks 
Check usage has fallen steadily since 1995, as consumers favor credit and debit cards over everyday purchases. It's not hard to see why. Writing a check takes far longer than swiping your card. Yet checks are still issued (and legal) in the U.S. but seldom used in retail. 
Credit cards
Credit cards are hugely popular and widespread in the U.S. The most well-known card schemes are Visa, Mastercard, American Express, Discovery, and Diners. Attractive reward schemes are one of the biggest pulls for credit cards in the U.S.  
Cryptocurrency 
Although there is growing awareness, cryptocurrency is still a relatively new alternative payment method and is generally poorly understood. That said, cryptocurrency is becoming more popular in specific sectors like gaming and digital goods, with hotspots including California, New Jersey, and Washington.  
Debit cards
Debit cards are accepted online and in stores. They lack the rewards of credit cards but are favored by those who avoid credit.
Digital wallets
A 2023 Forbes Advisory poll found that over 50% of consumers use digital wallets more than traditional payment methods. Digital wallet usage is especially prevalent among younger consumers, who are attracted by the convenience of this payment method. Apple Pay, Google Pay, and Amazon Pay are all trusted digital wallets in the U.S. 
Peer-to-peer payments
Services like Venmo, PayPal, Zelle, and Cash App allow individuals to send money to each other using their email addresses, phone numbers, or account details. These services are convenient for splitting bills, paying friends, or making small transactions, and the transfers can be instantaneous or take a day or two, depending on the service.
Prepaid Cards
Dubbed 'safer than cash,' prepaid cards are a versatile payment method and can be used for online and in-store purchases. Prepaid cards can be used when debit and credit cards are accepted. They're popular in the U.S. and are backed by major card networks, including Visa, Mastercard, and Amex. 
Payment methods in Canada
Debit and credit cards are well-used by Canadian consumers. While accepting Visa, Mastercard, and American Express card payments is essential for running a successful ecommerce business for the Canadian market, merchants should also offer the payment method Interac. 
Interac is a Canadian interbank network that provides electronic payment services for online transactions between people, businesses, and organizations. Interac serves the main debit card system in Canada and the funds transfer network via its Interac e-Transfer service. 
Consumers in Canada have also embraced digital wallets. Apple Pay was the most popular digital wallet among Canadian consumers in 2023. 
Why should you offer alternative payment methods in the U.S.?
Here are four key reasons you should offer alternative payment methods in the U.S. 
Offer greater choice
Offering more payment options gives shoppers more choices and allows them to pay their way. We all like getting our way, right? So, by providing alternative payment methods, you enhance the customer experience, and happy customers generally convert better. 
Reduce payment friction
Hurdles or obstacles during the payment process can significantly impact conversion rates. Our study revealed that 41% of consumers will abandon their purchase if the checkout takes more than four minutes. 
Offering alternative payment methods can speed up transactions and boost sales for merchants by providing quick and easy payment options for consumers.
Increased security 
Alternative payment methods are equipped with multiple security layers to protect the consumer and retailer from payment fraud. With growing consumer trust in alternative payment methods like mobile wallets, offering these payment options can help put safety concerns at ease. 
Entice new customers
It's no secret that shoppers value convenience above everything else. Offering a larger range of payment methods, including alternative payment methods, means your buyers can use their favorite payment option. This can help your business overcome geographical and language barriers and reach new customers, which is vital for growing your business. 
How Primer helps businesses unlock new payment methods in the U.S.
Customizing the payment experience for specific markets has demonstrated a clear path to revenue growth, as discussed earlier in this article.
Primer offers a seamless solution, enabling you to effortlessly tailor your checkout experience to align with local consumer payment preferences. Our low-code solution empowers you to swiftly integrate multiple alternative payment options with just a few clicks.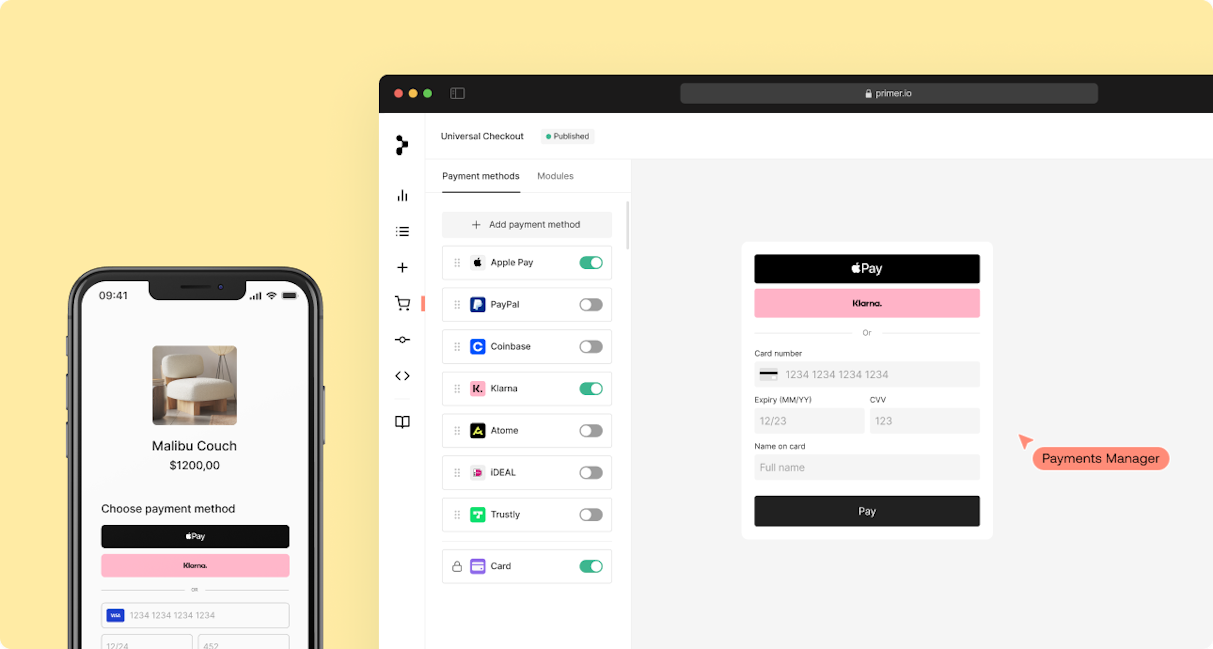 Simplicity is key with Primer. Our platform ensures easy integration, requiring only a one-time setup regardless of the number of payment methods you decide to incorporate.
Final thoughts
As a merchant, knowing which payment instruments will dominate a particular market next can help you optimally handle future transactions. Using data to drive these decisions is the key. 
In today's landscape, integrating alternative payment methods becomes essential to enhance the overall payment experience for customers. At Primer, we specialize in facilitating this transition, assisting businesses in unlocking new market opportunities, and optimizing their payment strategies.
Discover how we'rewe'reorting businesses by checking out our case studies.